Facilities Management Comes to Italia: What You Missed at the ServiceChannel EU Facilities Management Summit 2018 in Milano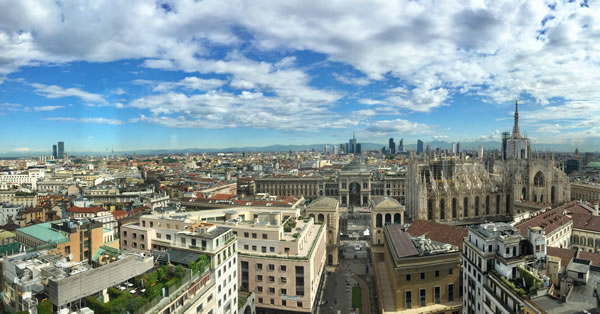 ServiceChannel returned to Milan, Italy this month for the annual ServiceChannel EU Summit. The event has been consistently useful in creating a facilities community in Europe and providing a space for facilities professionals to share best practices, exchange ideas and interact with their contractor partners.
The ServiceChannel team was on hand to discuss service automation platform capabilities, and data-driven decision making, and to bring European facilities managers together to build new partnerships.
The event featured speakers from the European facilities community such as the IFMA Italia Chapter and the world-renowned luxury brand Fendi. Also on hand were ServiceChannel experts who presented the latest on facilities management software innovations and global investment initiatives for our 500+ and growing customer base.
Europe Looks to the Value of Service Automation
The summit's education theme focused on transformational products and ways to help drive new levels of efficiency, visibility, and compliance into their organizations. Discussions and presentations centered around a number of the latest innovations that are driving real value for brands across Europe.
Transformational Facilities Management Technology
Site Access

  – 

Technician level identification and on-site access verification. A mobile solution that enables customers to monitor and control location access.

Asset Tagging

– Easy, comprehensive asset management. The ability to build asset inventory, track asset service history and simplify asset work order creation.

Decision Engine

–

Leverage data for faster, easier, more precise decisions. Data-informed proposal, invoice and asset intelligence.

NTE Optimization Engine

– Dynamic not-to-exceed limits continually optimized costs.

Site Planning Manager

– Automate, standardize inspections, with consistent data.

Supply Manager

– Customized supplier catalogs for store buying.

Field Tech Manager

– Management of in-house technicians and transparency into technician productivity.  Parts & supply inventory cost and usage tracking.
The Service Provider Experience
Facilities managers weren't the only ones who were able to share ideas and experiences at the EU Summit, as we focused on all aspects of and participants in the facilities ecosystems. A number of service providers attended as well and learned from product experts about the value that the ServiceChannel facilities management platform offers to them, including:
Service lifecycle experience and service predictability

Integrations that ease the cost of doing business

Supporting timely payments
In regards to contractor FM mobile solutions, ServiceChannel offers easy-to-use mobile technology for providers which provides them the core functions of ServiceChannel software.  Providers and contractors can also benefit from full line integration with authorized software partners for providers who have their own mobile solution.
"With Service Provider mobile business needs varying by trade and company size, it's important to create a sustainable approach."
– Bashir Abdallah, VP Market Strategy, ServiceChannel
FENDI Shares 'Game Changing' Health & Safety Audit Program
Francesco Fassio, Facilities Manager from Fendi EMEA shared his experiences of implementing its 'game-changing' health and safety auditing program across EMEA with Service Automation.
Overall, by implementing ServiceChannel's platform, Fendi's FM operations became more efficient and provided greater control of its third party outsourced health & safety auditing program. The results were significant; Fendi realized:
95% Elimination in critical issues between audit periods

88% Decrease in issue resolution time

95% Time FM team saved in processing invoices
"With ServiceChannel we were able to conduct 'active audits," which is a game-changing way to address our facilities issues. We are now able to outperform regulatory standards for auditing, even with the different requirements across the many countries and regions where we operate."
– Francesco Fassio, Facilities Manager, Fendi EMEA
IFMA Italia President Discusses FM in the Digital Era
Marco Decio, IFMA Italia President, discussed how facilities management in Italy has had a profound transformation in the global market.  He discussed how IFMA is helping guide companies on best practices, new technology, and other ways that a facilities program can do more than simply provide support services but help companies achieve their strategic goals.
The meeting concluding with a cocktail party on the rooftop at the Terrazza Martini. We are excited to collaborate with industry organizations like IFMA Italia as we continue to invest in supporting the global facilities management industry.  Plans are already underway for future facilities management events for the European market.
Learn how to connect with ServiceChannel at our upcoming facilities management events.