ServiceChannel Enhances Cloud-Based Platform with Enterprise Features, Mobile Capabilities and Advanced Analytics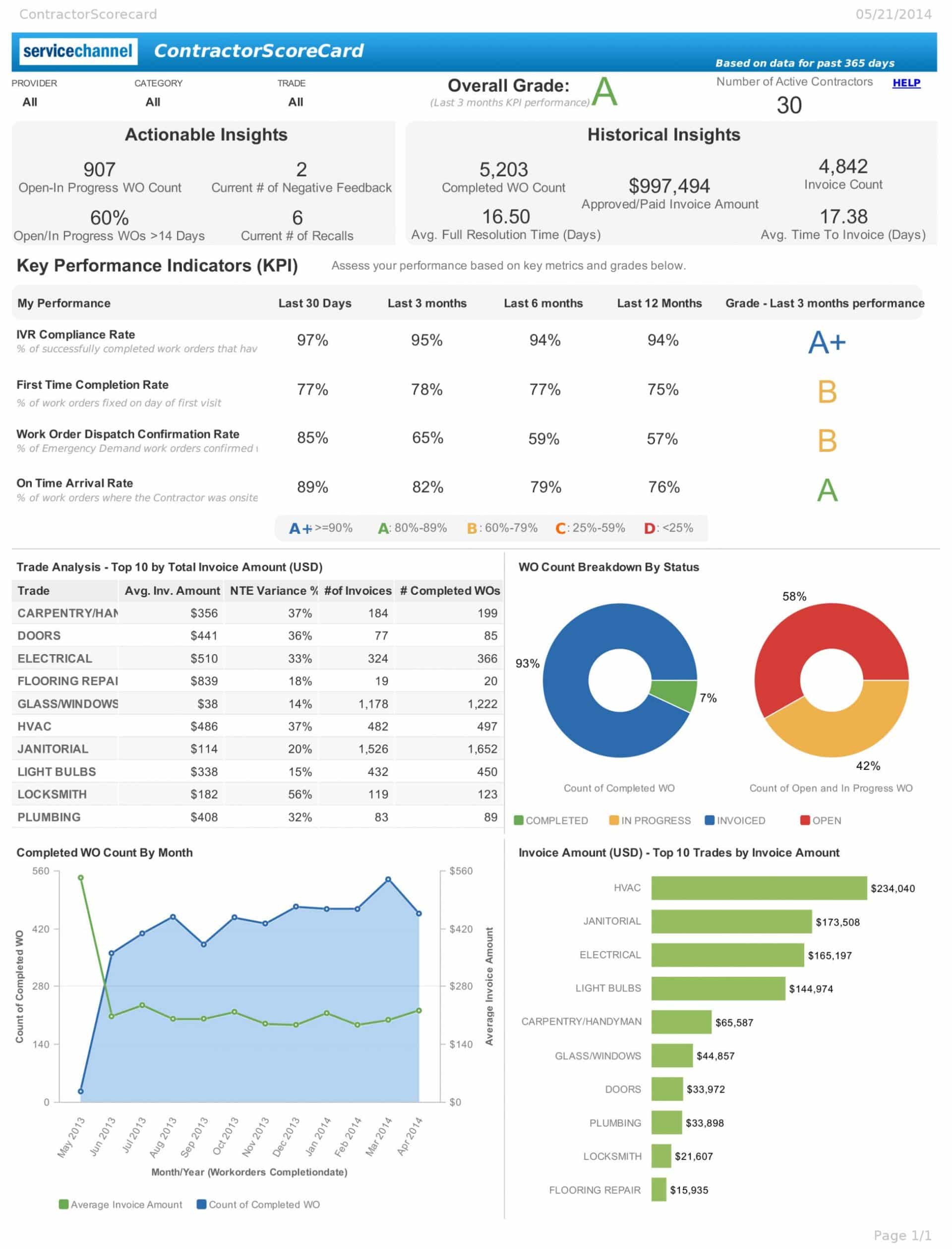 Updated Offerings Extend Value to Facilities, Procurement, and Financial
NEW YORK, Feb. 12, 2015 – ServiceChannel, the leading service automation platform for facilities managers and contractors, today introduced a number of major technology advancements to its industry-leading cloud-based software platform. The enhanced ServiceChannel portfolio is designed to deliver "more valuable properties" via innovative, automated, and operationally efficient ways to find, manage, analyze, and pay for services through a global network of external contractors.
The company's expanded product line offering enables customers to further optimize facilities management and service procurement processes and tailor them to their individual and unique requirements. Specifically, the company added four new products – Custom Analytics, Supply Manager, Site Audit Manager, and Payment Manager.
"ServiceChannel has harnessed cloud, big data, and mobile technologies into a single platform that has helped modernize how we manage our facilities across our global enterprise," said Katie Smith, Facilities Manager at Raising Cane's, a fast-growing restaurant chain headquartered in Baton Rouge, LA. "The enhancements that ServiceChannel is delivering through its updated portfolio will drive even more value from each site through streamlined operations, better data, and reduced costs."
The ServiceChannel Service Automation portfolio now includes:
ServiceChannel Service Automation: The core platform in the ServiceChannel suite automates key business and service processes such as sourcing of contractors, connecting locations with external service providers, managing invoices and payments, and providing visibility and data for improved performance, compliance, and risk management.
ServiceChannel Service Automation is built on a fully redundant, highly secure, and multi-tenant cloud architecture based on Amazon Web Services. It integrates, via open APIs, with leading enterprise productivity and resource planning applications such as SAP, Oracle, Lawson, and Microsoft. The platform also integrates with many other supplier and service provider applications, including Accruent, Ecolab, Grainger, SimplexGrinnell, Trane, York, and many others.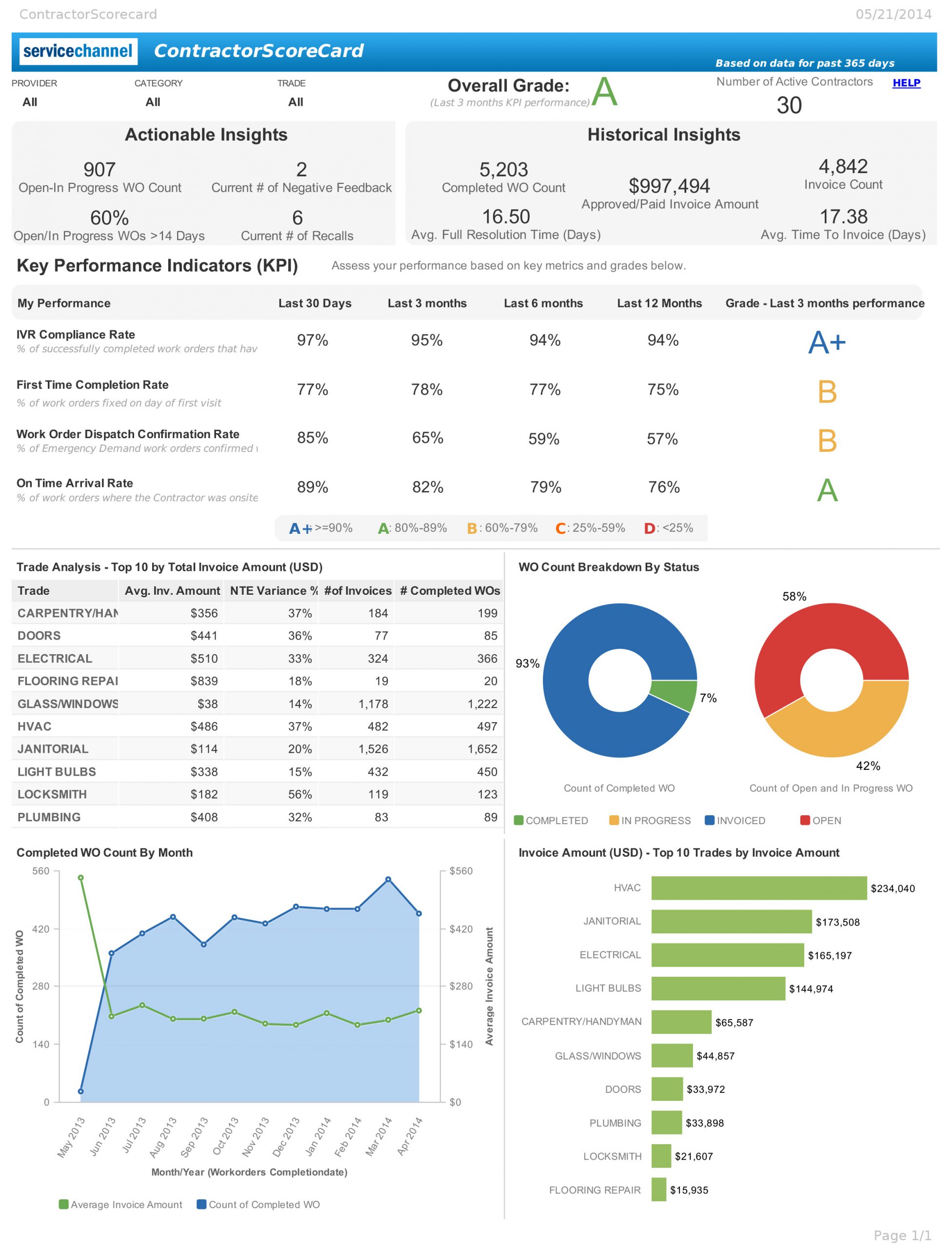 ServiceChannel Custom Analytics: Enabled through a strategic partnership with GoodData, a leader in business intelligence solutions, ServiceChannel Custom Analytics enables clients to modify the standard ServiceChannel analytics or build their own business intelligence platform tailored to their specific operational processes. As part of the new analytics launch, ServiceChannel has published "8 Financial Reports Every Facilities Manager Needs (and Every CFO Loves)" for facilities, procurement, and financial managers.
"Facilities managers don't need another failed and expensive BI solution with inflexible tools and infrastructure," said GoodData Founder and CEO Roman Stanek. "Our partnership with ServiceChannel delivers our joint users real-time insights that help them improve their day-to-day operations. The ability to transform business and make data-driven decisions is today's top competitive advantage in facilities management."
ServiceChannel Supply Manager: A self-service tool enabling facilities and procurement managers to customize an on-line catalog built with company-approved contracted materials, equipment, parts, supplies, and support services. Supply Manager streamlines and standardizes purchasing across every facility in an enterprise. This helps maintain brand consistency across all sites, optimizes cost and inventory control, while maintaining compliance and adherence to corporate purchasing policies.
ServiceChannel Site Audit Manager: A new mobile application that enables fully configurable and comprehensive on-site audits of facilities using smart phones or tablets, providing a consistent and efficient way to help manage brand and customer experience. Site Audit Manager allows users to create work orders during a survey, and is fully integrated with the Service Automation platform and analytics offerings to help users make more informed, data-driven repair or replace decisions.
ServiceChannel Payment Manager: Consolidates, processes, and pays invoices, and enables companies to automatically pay hundreds or thousands of contractors via a single wire to and through ServiceChannel's secure cloud platform. Payment Manager ensures consistent and timely payment for services delivered, reduces the operational burden and costs for facilities managers and accounts payable teams, and improves consistency and satisfaction among suppliers and contractors.
Pricing and Availability
The ServiceChannel Service Automation platform and the four optional products are all available now to license on a per-location basis. For more information, including a live demo of these products, visit www.servicechannel.com.
Additional Resources
About ServiceChannel
ServiceChannel provides facilities managers with a single platform to source, procure, manage and pay for repair and maintenance services from commercial contractors across their enterprise. By providing a real time, web-based view of service data across all trades, locations and contractors, facilities managers drive significant brand equity and ROI for their organizations without outsourcing or investing in new infrastructure. Over 200 leading global brands use ServiceChannel daily to conduct business with over 50,000 contractors at more than 100,000 locations in 63 countries.
ServiceChannel was named a GAP Inc. Strategic Partner in 2013 and was awarded two Nike Vendor Excellence Awards in 2010 and 2012. ServiceChannel was also named the Vendor of the Year in 2011 by The Professional Retail Store Maintenance Association (PRSM).
Media Contact for ServiceChannel
Name: John Noh
Phone: 408-242-3852
Email: jnoh@servicechannel.com