Benchmark, onboard, and rank providers faster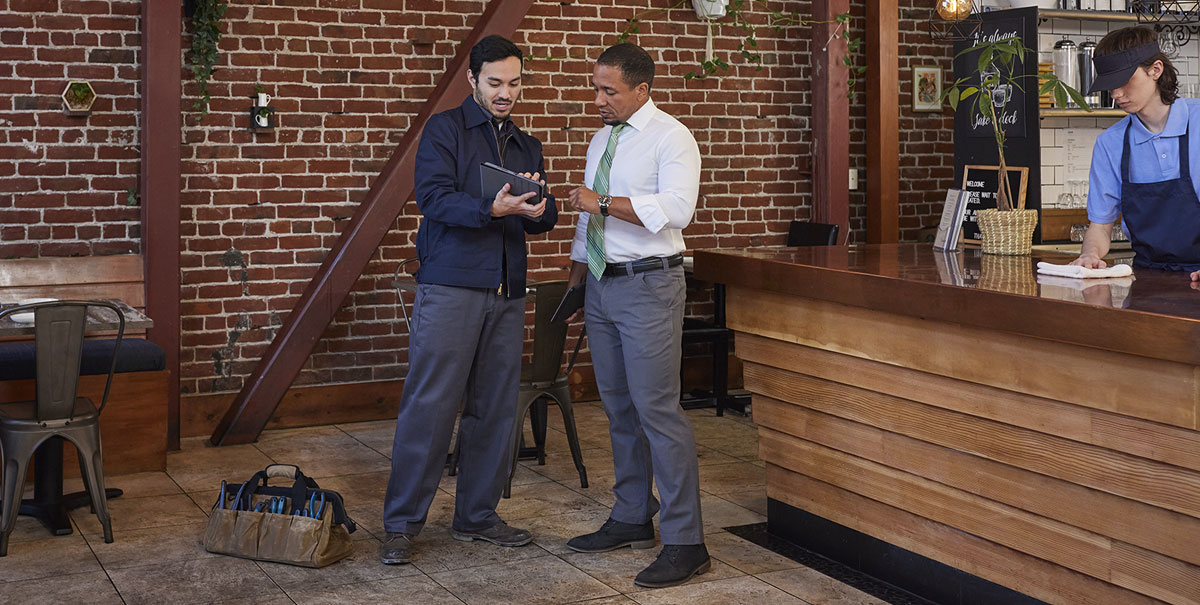 Compare and upgrade providers quickly with powerful new insights and efficiency tools only available on the ServiceChannel platform.
Improve service and reduce costs with new provider management tools.
We're excited to announce the launch of provider benchmarking, reassignment, and compliance tools to help you continuously improve your network with top-performing providers. And later this year, you'll be able to see recommendations for exactly where you can improve service and reduce costs.
Now available
Coming soon
How it works
Frequently asked questions
Now available
New! Provider benchmarking – only on ServiceChannel: Compare KPIs and scores* for your providers against each other and the marketplace to identify areas for improvement in your Contractor Scorecard.
New! Faster provider assignment and replacement: Effortlessly evaluate and replace underperforming providers with a streamlined ranking process through the Locations & Provider Assignments page.
New! Faster insurance reviews: Automate the process of reviewing all your provider insurance certificates, instead of doing it manually one-by-one, via Compliance Manager.
Coming soon
Network opportunities: Strengthen your network with proactive provider upgrade recommendations directly in Provider Search.*
How it works
Provider benchmarking — only available on ServiceChannel!
You and your providers can now compare Contractor Scorecard KPIs and Scores to overall market benchmarks on the ServiceChannel Platform at-a-glance to see how they stack up. You can also see where a provider ranks among your other in-network providers.
For each of the Speed, Quality, Engagement, and Price scores and their contributing KPIs, you can see where providers stand across four performance tiers: top, average, below average, and bottom. This information can help you decide where to focus during internal reviews and provider contracting discussions for the greatest improvement.
To access provider benchmarking, log into ServiceChannel and click on Analytics > SC Dashboards > New Contractor Scorecard 2.0. To learn more about how to use the Benchmarking Dashboard, visit ServiceChannel University.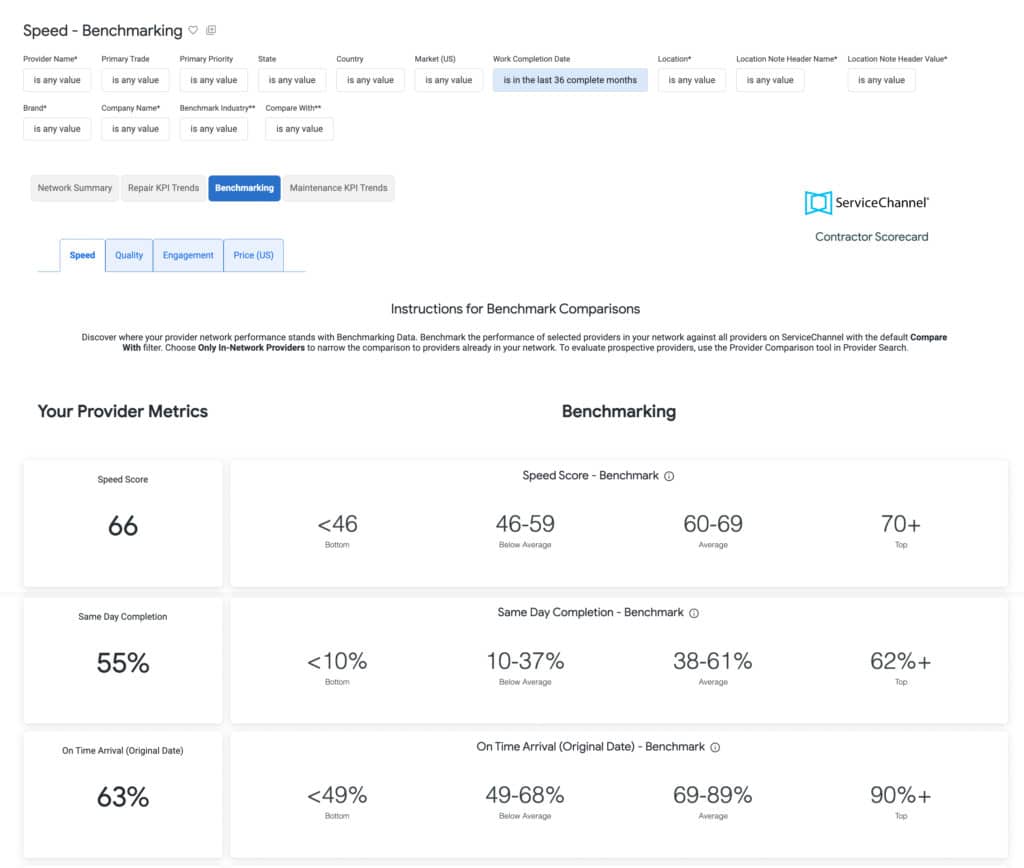 Faster provider assignment and replacement
It's now easier than ever to replace underperforming providers with proven top performers. These enhancements streamline the assignment process, saving you time and eliminating the administrative hassle associated with updating your provider rankings.
The new Provider Assignment Waitlist section shows all the providers who are onboarded into your network but not yet assigned to a location, so you can rank them easily. You can Assign Providers to a specified rank or replace existing providers with a new provider. You can assign providers for up to 3 trades at a time across multiple locations, and you'll get a preview of the rank lists before the changes are made.
To assign or replace providers, visit the Locations & Provider Assignments page. For more instructions on how to use the tool, visit ServiceChannel University.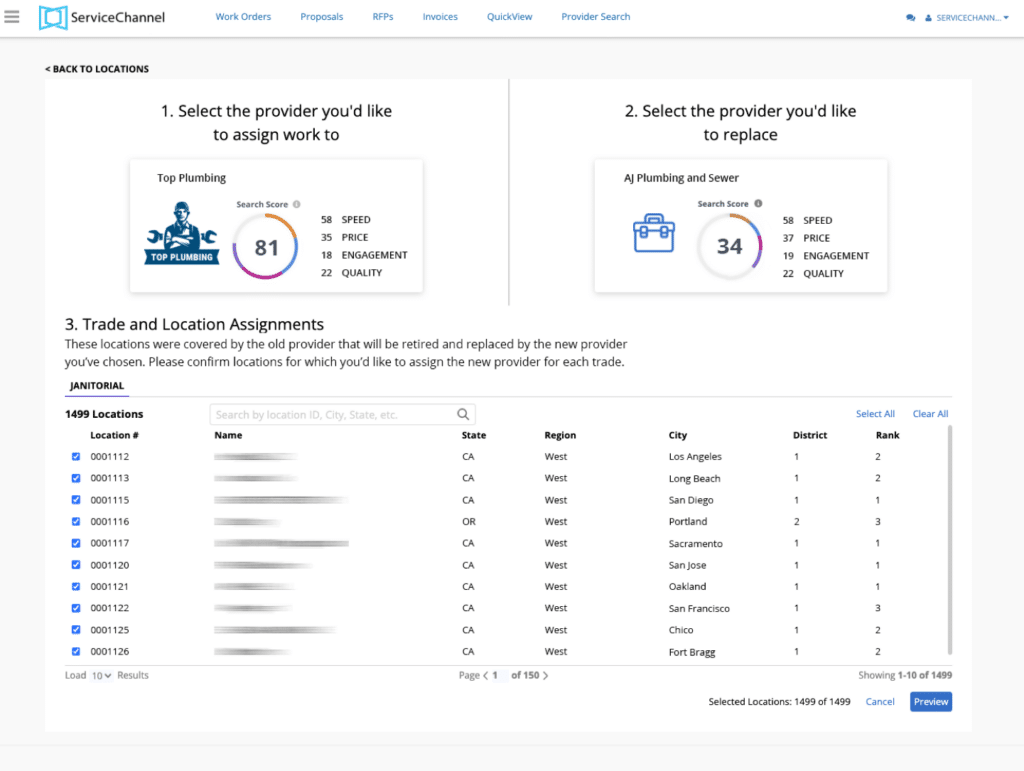 Faster insurance reviews
With less time required for compliance reviews, you'll have more time to make an impact. Now there's AI to help you review provider insurance documents, so you can save all that time typing in data by hand.
Providers can now upload their certificates of insurance (COI) and the information will be automatically detected with machine vision. Plus, you can approve multiple types of insurance at once to get your providers set up quickly, so they're ready to roll when you need them.
To review a provider's insurance documents, simply click on the provider's name in the Compliance Overview tab of Compliance Manager, then click on Insurance Documents. To learn more about managing insurance certificates, visit ServiceChannel University.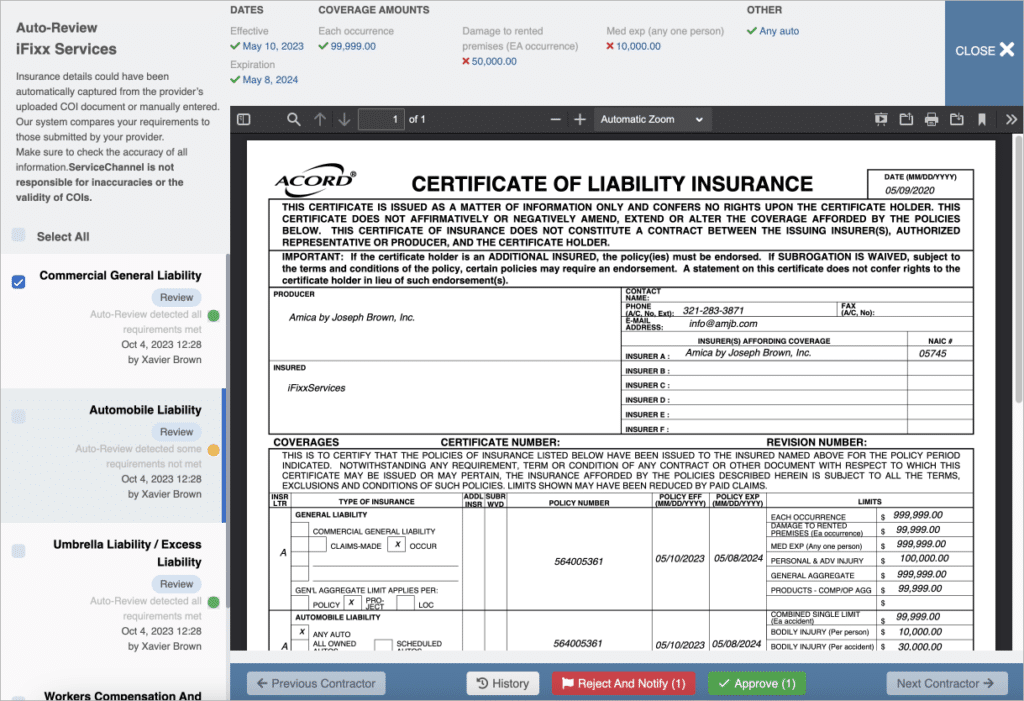 Network opportunities
Soon, you'll get tailored insights for how to get better service while reducing your maintenance and repair costs. Find out exactly which providers in your network are underperforming compared to alternate top-performing providers on ServiceChannel in the same trades and regions. Now you can get faster, higher-quality, more cost-effective service, without having to crunch the numbers yourself. You will find your provider recommendations and potential score improvements right in Provider Search.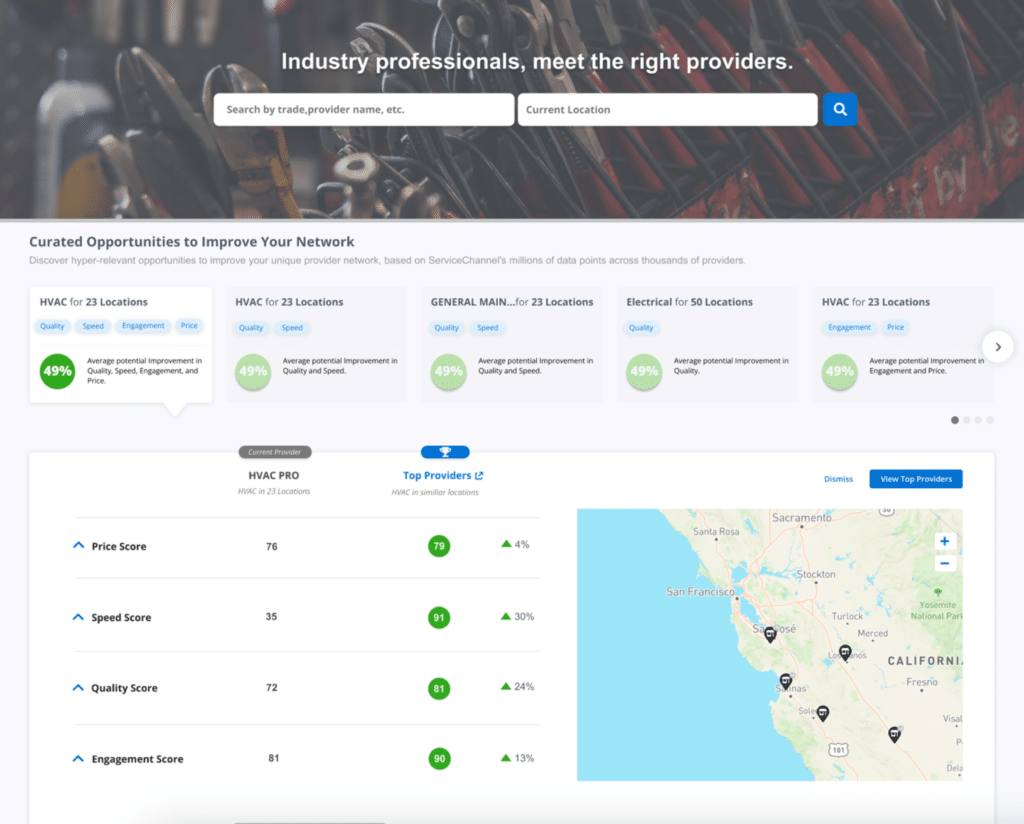 What do the performance buckets mean and how are they impacted by benchmarking?
ServiceChannel evaluates provider performance across four key dimensions of service with Speed, Quality, Price, and Engagement Scores. Each score is calculated from a weighted set of KPI inputs. Remember that a score of 100 would be perfect service, which is impossible in the real world. In reality, a Speed Score of 68 or higher puts a provider in the top 25% of all vendors.
For easy insight, the Benchmarking tab in Contractor Scorecard 2.0 shows how your providers fall into one of four performance tiers for each score: Top, Average, Below Average, and Bottom. You can select one or more filters for trade, geographic location, industry, and priority to focus your benchmarking on just the providers matching those criteria.
Can I see benchmarked performance scores for providers that are not in my network?
Only your current providers are shown in Contractor Scorecard 2.0, including benchmarking. To benchmark new providers, the easiest way is to use Provider Search to compare their overall scores, KPIs, and rankings for your specific criteria.
With the new scorecard, can I see performance metrics for my provider's other customers on the ServiceChannel platform?
With benchmarking, you can now easily see how your provider's performance on your work orders compares to the aggregate performance benchmark set by all providers on ServiceChannel matching the filters you set. You are NOT able to see individual performance scores for your provider's other customers.
Does benchmarking include maintenance work orders
No, provider scores and the comparison benchmarks for Speed, Quality, and Price* are calculated based only on repair work orders and invoices. Provider Engagement scores are not based on work orders or invoices, but on how effectively and consistently they engage with the ServiceChannel platform to give you more confidence.
What does it mean if I see a null value in a column instead of a score?
Speed and Quality must have 10 work orders that meet the criteria to be able to score an individual KPI. Engagement and Price have nuanced score measurements that, when not met, will populate a null value. See Contractor Scorecard 2.0 Calculations for further details. Keep in mind that as you apply filters, the pool of work orders available for calculating a score will be reduced. If you are seeing many blanks, try widening your view by removing a filter.