New Analytics Offering Strengthens ServiceChannel Business Intelligence Capabilities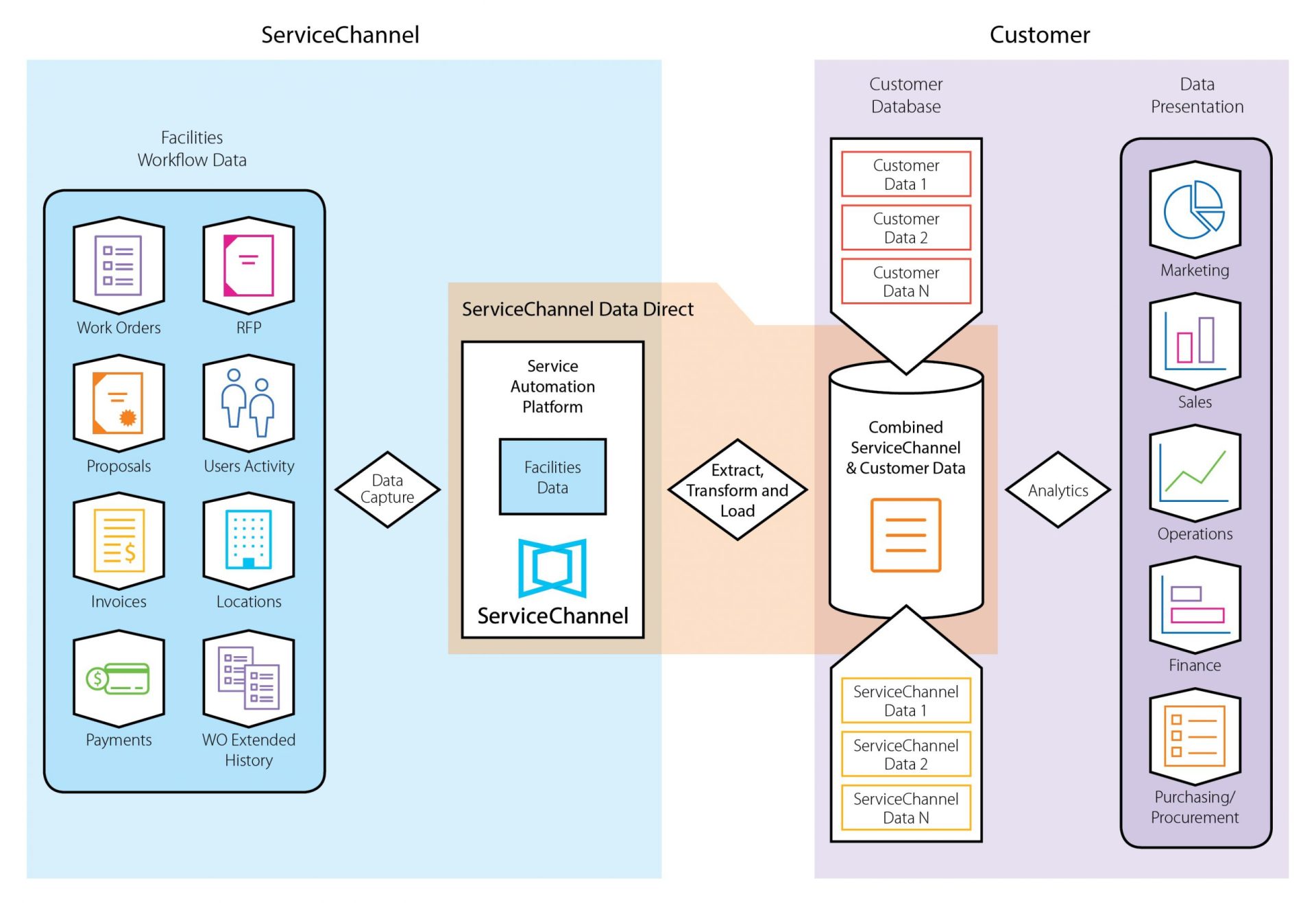 On-Demand Data Integration with Customer Systems Enhances Transparency
NEW YORK, July 28, 2016 – ServiceChannel, the leading SaaS service automation platform for facilities managers and contractors, today introduced ServiceChannel Data Direct, a new data warehousing solution that gives users on-demand access to facilities management data that can be easily and seamlessly integrated with other customer-specific data to enable more comprehensive and transparent business intelligence across the enterprise.  
Data Direct adds to ServiceChannel's growing analytics and BI portfolio that is providing customers greater transparency and visibility of FM operations in key areas such as spending, vendor compliance and performance, and trend analysis. Data Direct can serve as an on-demand accessible and sharable decision-support platform for enterprises to unify their data.  For example, customers can now correlate and analyze ServiceChannel-provided FM data with corporate sales data in order to determine the profitability of locations and stores based on brand compliance, quality of service and contractor performance.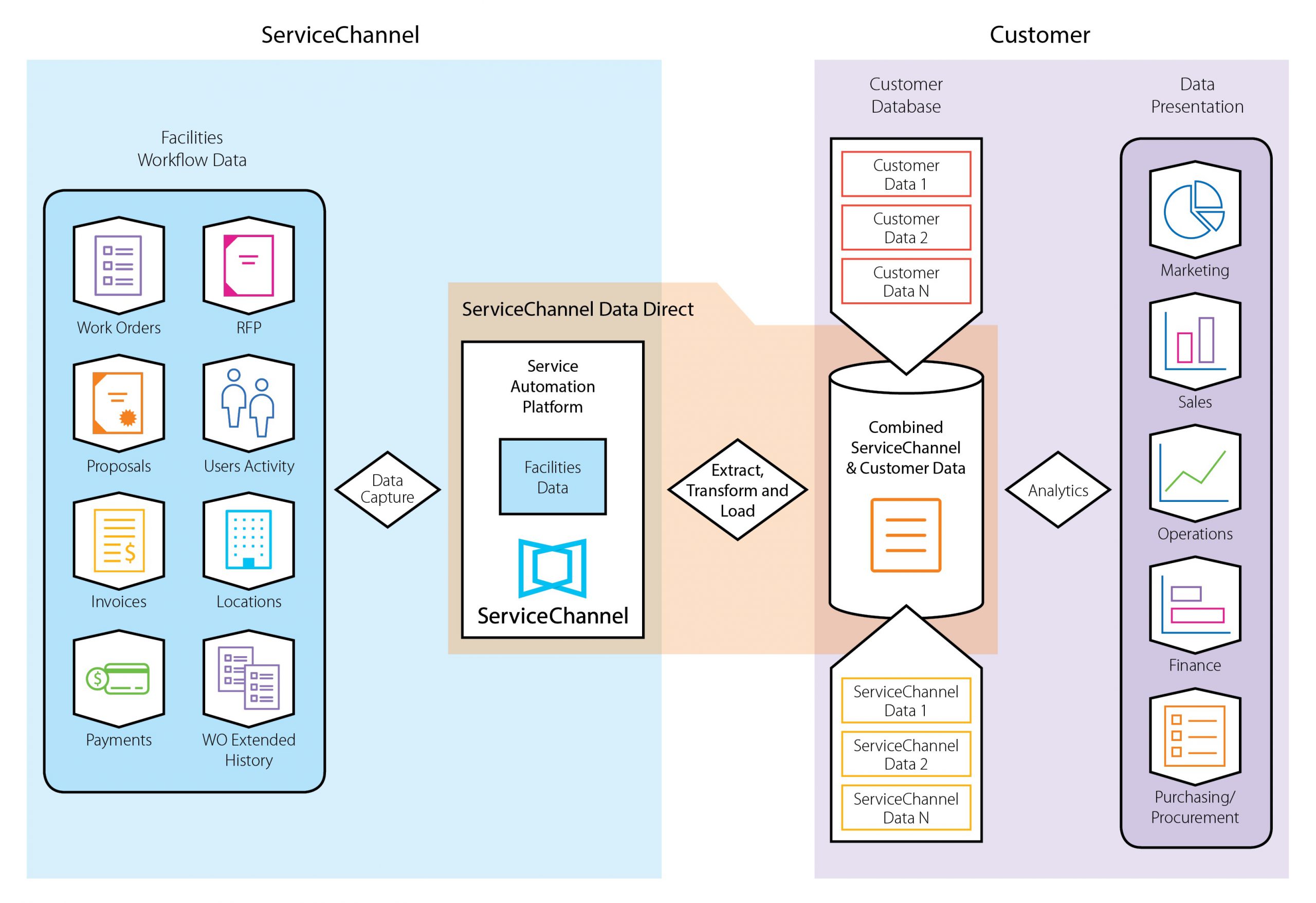 "Data Direct is a natural extension of our 'data-minded' focus to help our customers achieve unprecedented levels of transparency, visibility and efficiency in their operations," said Tom Buiocchi, CEO of ServiceChannel. "It is an acknowledgement that FM data is even more valuable when it's analyzed as part of an enterprise-wide data management practice using standard methodologies and processes."
ServiceChannel customers have the flexibility to access Data Direct on-demand via different options. They can access the dedicated and secure platform that ServiceChannel hosts built on the latest generation Amazon Web Services-based server and storage technologies. Or, users can choose to export Data Direct to their own internal systems for local extraction and aggregation with other data. In either case, Data Direct supports a wide array of BI tools from key suppliers including IBM, Microsoft, Oracle and SAP, and provides users the ability to utilize existing reports, dashboards, charts or create custom ones.
Data management tools such as Data Direct directly address some of the top trends impacting the facilities management industry today. This includes the need to investigate the relationships between facilities data with other data that companies either capture now or are beginning to collect and analyze. This is particularly important for brands managing many different locations challenged with managing and analyzing  data being stored in disparate systems such as foot traffic statistics, advertising and sales to other operational data such as inventory levels, lease information, utility/waste/water management and equipment/asset aging.
"By using advanced database and analytics techniques that Data Direct provides, companies will be able to better understand the impact of facilities on the rest of their business and vice versa." Buiocchi said. "Unifying the data and data analysis in this manner will open a wealth of new insights that will support improvements in creating new revenue streams while slashing unnecessary costs."
Pricing and Availability
ServiceChannel Data Direct is generally available today to all existing customers. For more information about pricing and service options, get in touch with our Sales team. 
Additional Resources

About ServiceChannel
ServiceChannel provides facilities managers with a single platform to source, procure, manage and pay for repair and maintenance services from commercial contractors across their enterprise. By delivering unprecedented transparency and data-driven analytics of service quality, across all trades, locations and contractors, facilities managers drive significant brand equity and ROI for their organizations without outsourcing or investing in new infrastructure. The world's leading global brands use ServiceChannel and Big Sky solutions daily to help optimize millions of transactions and billions of dollars of spend annually.