[VIDEO] The 3 Keys for CVS Health Facilities to Get – and Stay – Transparent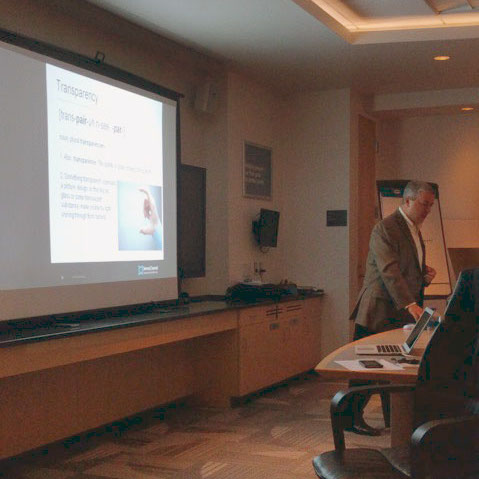 One of the latest stops on ServiceChannel's Think Transparency national tour was CVS Health Headquarters in Rhode Island.  There, we met with numerous clients and those interested in current facilities management trends and topics. Attendees learned about the latest in mobile facilities management and advances in analytics, and shared FM best practices.
But the highlight was learning directly from CVS Health's facilities management team, and how transparency is crucial to their operational strategy.  To them, visibility across their program underlies everything they do.
According to Joe Garland, Trade Services Manager, CVS Health, transparency "allows us to make better decisions based on the big picture – especially when it comes to the contractors and their performance."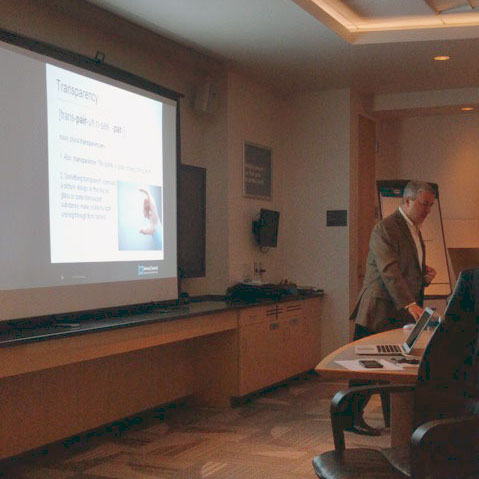 CVS' Randy Hausmann, Sr. Director, Facility Management sharing how transparency supports their facilities program
One of the event's goals was to uncover the three elements of their FM transparency:
Why they need it,

Who needs it and

How they implement it.  
Guiding the discussion was CVS Health's Randy Hausmann, Sr. Director, Facility Management, who addressed the benefits of transparency through facility management, repair and maintenance processes–covered in the full video in case you missed it.
Part of the CVS facility management team for 15 years, Randy's responsible for overseeing all responsive repairs and recurring maintenance across the enterprise.  Part of the challenge is overseeing hundreds of third party service contractors and the work they perform at CVS Health locations nationwide.
Partnered with ServiceChannel since 2012 and relying on our service automation platform, Randy does it with "a focused team, committed partners, customer service focus, great juggling skills – and importantly – transparency."
Why Transparency is Crucial for Facilities Management
Knowing what's going on across all one's locations is a key driver for performance for any kind of FM program. At CVS, "our huge volume of work continually requires easy access to all current information," stressed Randy.  With 1,000+ service requests typically in progress at any time, they continually need to know about:
Issue Status

Issue Resolution

Contractor ETA

Work Order Costs
For Randy, he needs transparency to provide accurate real-time updates on the problems reported and work performed.  "Even exception management relies on visibility."
Video Highlights
Who Needs Visibility?
Visibility isn't just a one-way street; it's important across an organization's entire program for all its constituents.  CVS makes sure that transparency extends from its facilities team to its service providers, operations partners and support staff.
Only when everyone has the same window into what's occurring can performance be maximized both inside and outside the organization, costs controlled and reduced, and efficiencies realized.
How Does Transparency Impact Facilities Management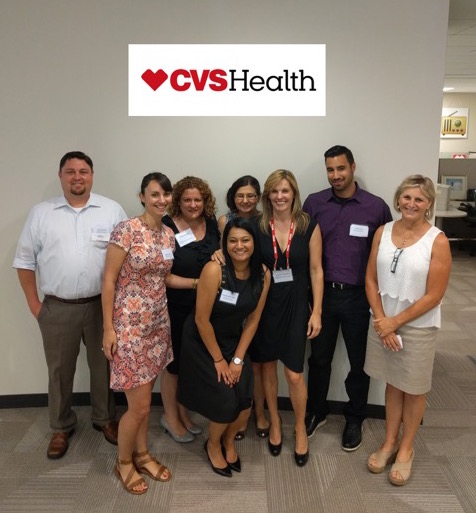 Some of the ServiceChannel team at CVS Health headquarters
Saying you need your FM program to support a goal of transparency is only the first step.  What's needed is the underlying technology that can provide that visibility for all aspects of an FM program.  
For Randy and the CVS Health Facilities team, the ServiceChannel platform enables them to track, monitor and analyze a wealth of essential elements including:
Service Provider Acknowledgment

Service Provider Check-In / Check-Out

Response to SLA Adherence

Proposal Usage

Invoicing Requirements

Contracted Rates

Service Provider Comparison

Operator Utilization

Geographic Measurement

Service Provider Financial Health

Valid Insurance Compliance

Current License Compliance
Even validating service provider acceptance of business support requirements is another important opportunity achieved via transparency.
Knowing what something is going to cost is key.  Not-to-exceeds (NTEs) form an important part of their approach.  They dispatch everything with an NTE, "knowing intentionally that many times the provider has to come back" to them and seek their approval.  "Some times we're going to say, 'don't repair that, replace it' because that makes the best longer term business strategy achievable for us."
Visibility into all this data, whether internal or external is part of their process.  Randy detailed how they review contractor performance across the board, for everyone that does work for them.  "We use transparency to know how service providers' performance compares…That provider comparison, is really something that from a transparency perspective, has a real impact on our business."
Even visibility into the financial health of its vendors is something that impacts them.  "We need to understand their financial health."  In reference to a provider's suddenly ceasing business immediately, "if we knew about it, that's something we could prepare for."
This vendor scenario relates to contractor compliance and the management of such details.  "We think in terms of minimizing the risk to our organization and part of that is, do providers actually have insurance, are these policies up to date and current, and is CVS named as additionally insured.  Information about that needs to be visible, needs to be transparent….They need to qualified in and certified to do work on our behalf in any location that they're supporting CVS."
Facilities Management Transparency Use Case: Contractor Initiated Work Orders
Randy shared an example of one function that could only be supported with a transparency-based approach.  With hundreds of locations often facing unpredictable snowstorms but needing to be open to serve their customers, timely snow service necessitated a creative solution.  "Snow…was an interesting challenge for us because of transparency."
Snow removal service needed to be addressed at all hours, sometimes without warning and on demanding schedules. But invoices came months later and by that point, it was difficult to remember if the work really had happened.
In general, handling most service requests was somewhat similar.  But "snow is different," said Randy.  For every other type of work, CVS Health initiates its service requests.  However, for this work, they moved to a model where snow service is managed by the providers themselves.
The key part was relying on a transparent process facilitated via the Service Channel Contractor Initiated Work Order (CIWO) mobile app.  Providers create snow removal work orders on their end when conditions warrant.  The CIWO app validates:
Who was there

Where they were

When the work occurred

What was done

Additional measures implemented to bolster visibility
By having complete transparency into the process and the work performed – even with pictures of the work done, CVS Health can ensure that these unplanned work orders are handled efficiently, cost effectively and accurately.
With Facilities, What You See is What You Have
Another way to facilitate transparency across the repair & maintenance process according to CVS is with what everyone has in their pocket, a smartphone-based camera. This way, anyone may attach photos to service requests so remote support staff and contractors can readily understand the scope of a required repair.  Photos tied to work orders also let service providers visualize 'before / after' conditions.
Photos facilitate transparency in other ways too.  "Sometimes, we need pictures, even when it's not our fault."  Randy shared a story about recent flooding in West Virginia and how, though things weren't their fault, they worked with the landlord to remedy the situation backed by photos of the issues.
Facilities Technology Drive Transparency, to Drive Performance
Randy summed things up nicely: "Without transparency, our efficiency is dramatically hindered.  Further opportunities to refine transparency in our processes should be identified.  And service providers differentiate their performance with transparency.  Without transparency, it would be a real show stopper for us."
Another attendee, Eric Korth, Facilities Service Manager, Cole Haan, highlighted the importance of an underlying FM technology platform to ensure visibility for everyone.
"With ServiceChannel, we are empowering our partners to find the answer themselves, giving them an opportunity to really solve for themselves and making them part of the solution. It's the easiest system to work on – ever!"