No Holiday Vacation – We're Still in Session at ServiceChannel University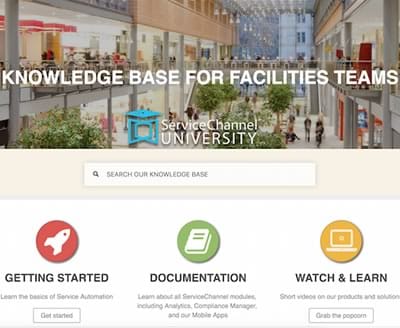 While many folks are preparing for the holidays by either handling the end-of-year rush or preparing for the new year, here in ServiceChannel's Learning & Development group, we've been heads down, working on the next iteration of ServiceChannel University.
For those new to the ServiceChannel community or unfamiliar with what's available on this front, ServiceChannel University is our 'everything you need to know' Knowledge Base. In addition to the comprehensive functionality available to all our customers, our Development and Product teams are continuously hard at work bringing you new features and enhancements. Complementing that, on our end, we're continually focused on keeping you updated on all this, and how to maximize the software's value for your organization.
The Updated ServiceChannel University: What's New?
The big change we're excited to announce is the initial rollout of a completely redesigned ServiceChannel University. The first thing you'll notice (if you're a regular visitor to this resource) is an entirely updated interface. Beyond just a better 'look & feel,' you'll benefit from much more useful navigation to find what you need.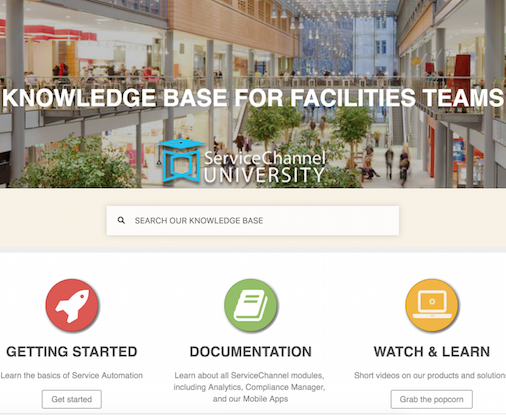 Now, instead of scrolling through a potpourri of topics on the ServiceChannel University home page, all of our products and solutions are easily found in the left navigation of each page. Whenever you're viewing Documentation about a particular module, you'll see other relevant information, such as permissions needed to turn on certain features, other articles on that topic and related content across other topics.
Search has also been improved. With a 'profile-based' type search approach, you'll only see the content that's appropriate. No more searching for content only to get results that aren't applicable to you. You will also see this Search bar on every page, so you can navigate to the information you need, quicker and easier.
For example, facilities operations teams will see information related to them, while Service Providers will only see information relevant to them. But if you do need to see the other side of the world, no worries! In just one click, you may easily peek into the other side.
But that's not all! With the new ServiceChannel University comes more…more content, more engagement, more newsworthy feature highlights. Hiring new staff and need to get them up to speed on the ServiceChannel platform quickly? Our new Getting Started area features the most important topics to get you on the road to gaining the expertise and knowledge you need, fast.
We are also adding hands-on simulations so your new team members can practice before working with live data. And in the future, we'll bring more video content and best practices to the Watch & Learn area for you to learn and engage.
For those who want to know everything that's going on, there's also easy access to view all software product Release Notes. Here you can find the details on every enhancement and bug fix.
While we're actively improving and adding more documentation, video, and other content — and won't be replacing the existing ServiceChannel University with this new version until mid-February — we'd love for you to take a test drive and let us know what you think.
To get an early look, feel free to check out either initial version of ServiceChannel University here:
ServiceChannel University for Facilities Teams
ServiceChannel for Service Providers
Look forward to seeing you!