Facilities in the EU:
Lisa Del Percio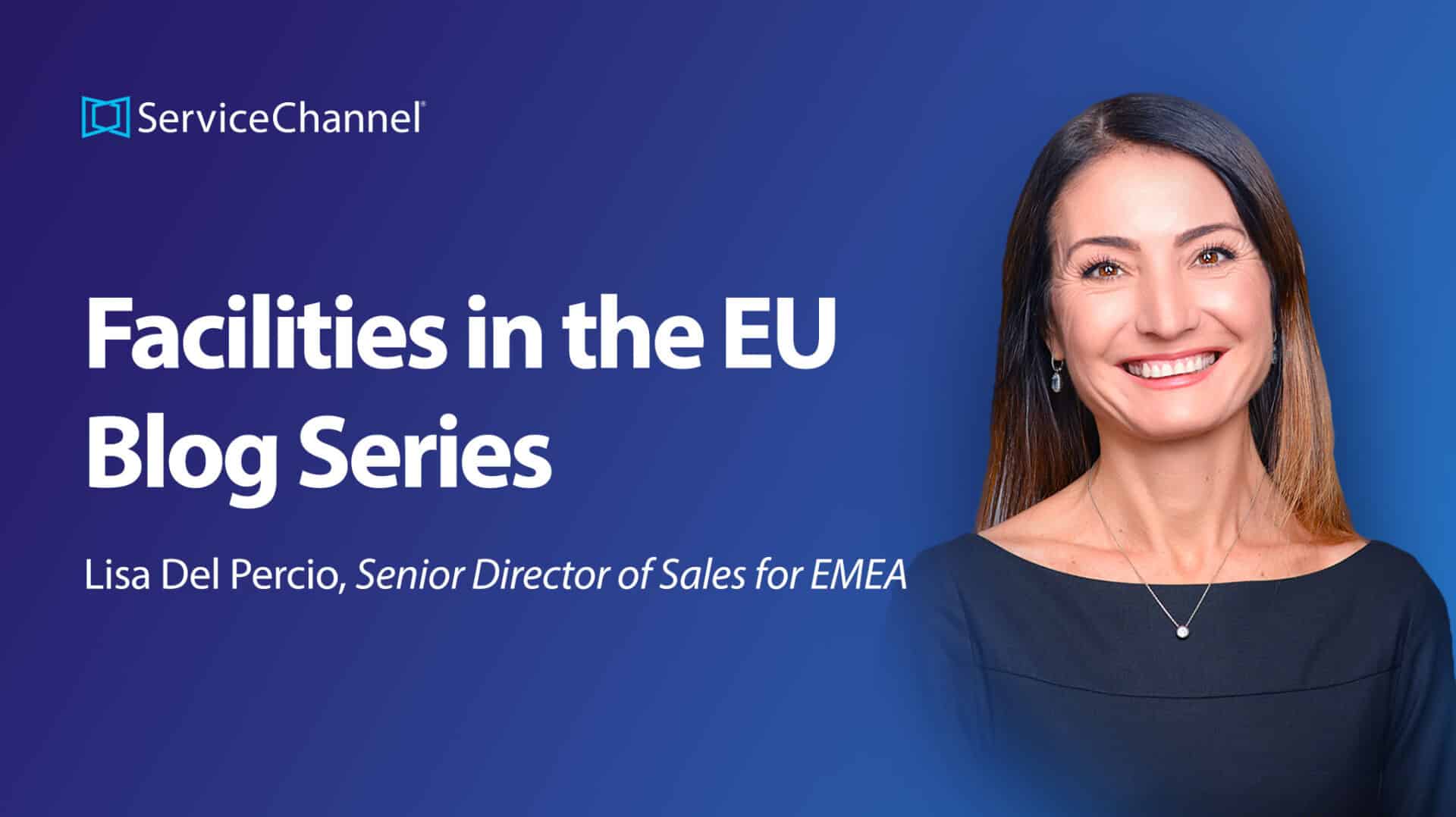 Introducing Lisa Del Percio, Senior Director of Sales for EMEA here at ServiceChannel. Lisa's passion is helping organizations in the EU rein in their asset and energy expenditures to reduce their impact on the environment, lower their CapEx spend, and prepare for long-term supply chain and energy challenges. How does she do it? It's all about the data.
What is your background in facilities management in the EU?
I started working within the facilities space about eight years ago. In Europe, I began having conversations about six years ago around how data can help digitize your facilities program to be transparent. At the time, it wasn't a top priority for companies I was speaking with, because historically, facilities management has focused on, 'something is broken, and I must fix it.' It's a very reactive approach—but there just hasn't been the data behind it to support additional digital investments. And without data, it's really hard to go back and ask for digital investment money.
But around the time of the pandemic, all of this quickly changed, and now, with the current energy crisis, it's changing even more. And facilities are a key component to navigating this crisis—how is data supporting them? And how is it helping to achieve overall company business objectives?
Through your conversations with executives, what do you see as the top areas of focus in 2023?
How has the energy crisis in the EU impacted SMBs, and large companies in general?
How has the energy crisis changed the way companies manage their facilities?
Companies are starting to look at assets, which have become key components for all parts of the business. They're critical. And as a consequence, investments in digitization are no longer a nice-to-have—they're a must-have. Just recently, I've been in meetings with finance—a whole other part of the business. And they're explaining to me that they have to prepare reports for their investors. They have to show what their asset real estate looks like, and what is repair and replace—how much are assets costing them? What is the total value of their assets? What will their CapEx investment need to be the following year? Where are their assets located—are they even located in the company anymore? These are all real experiences that financial leadership is having, and they're asking for these data points, but they don't have them, because they don't have a way of automating and centralizing processes and creating this visibility. Data has become critical for these companies, especially as they navigate through the crisis, because if you can't pinpoint with accuracy where a problem is, you absolutely cannot correct that problem.
Speaking of energy, What are the unique challenges that are top of mind for C level executives faced with rapidly rising energy costs?
What kinds of actions are C-levels taking, or not taking, in order to manage energy expenditures now and in the future?
What specific types of data can C-levels gather to help them make informed decisions to reduce their energy spend?
The most important data points that they can capture for their facilities is around assets. It's about repair and replace data, leakage data, asset downtime. If you think about one asset type, and you have, say, 500 locations, which brands are outperforming others? Where do you want to invest in the future? It's using that data to make those decisions.
What can these types of data reveal about various aspects of Facilities Management, such as the question of repair versus replacing equipment, improving the overall efficiency of buildings and the assets inside?
So what would be the most common issues good data can uncover?
How big of a difference can automating, tracking and analyzing a facility's data make to a company's bottom line? And do these benefits extend beyond the equipment and energy expenditures?
Absolutely. First of all, the benefits extend to every part of the business. Think about your customer brand uptime and customer experience—it's key. But in general, what we've seen is that properly automating your program and managing your assets is going to show you 10 to 30 percent cost savings in your RNM budget. And that's a big number. If you think about some of the larger enterprise grocers, or even the medium-sized grocers, they're spending a heck of a lot of money on repair and maintenance, so 10 to 30 percent is a huge impact. It creates a big bottom line number—and that's just cost savings related to proper asset management. On top of that, there's a whole other cost savings, like the savings related to avoiding food spoilage and reducing energy consumption.
What would be your number one piece of advice to C-level executives?