What Is EAM, and Why Do Asset-Intensive Businesses Need It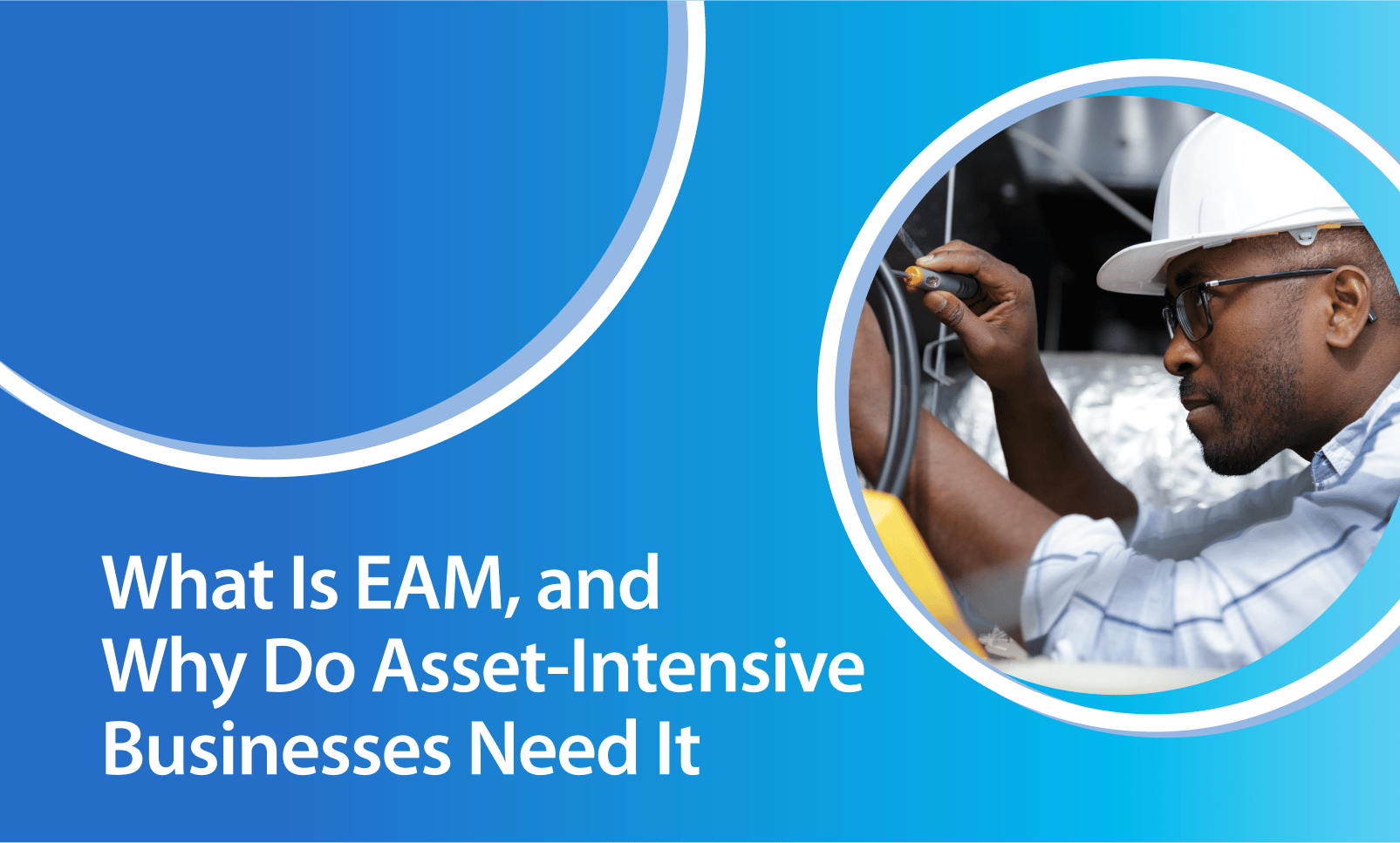 Keeping essential company assets in optimal working condition goes a long way toward helping companies meet their core objectives. Enterprise Asset Management (EAM) is a process designed to help enterprises maximize the usability of their assets while keeping costs down. That way, you can maintain essential operational uptime that keeps them competitive. So let's do a deeper dive into what EAM is and its importance to a business that relies heavily on assets.
What Does EAM Mean?
Enterprise asset management covers the systems, software, and services companies rely on to maintain and control their assets and equipment throughout their lifecycles. By optimizing the use of assets throughout their entire lifecycle, you can increase your level of productive uptime in your facility while reducing overall operational expenses.
In addition, EAM covers:
Asset Maintenance
Work Management
Planning and Scheduling
EHS (Environmental, health, safety) Initiatives
Supply Chain Management
Industries that rely on complex physical assets and equipment most need a comprehensive enterprise asset management strategy. Let's look at two different types of EAM systems and how they can impact a company.
Manual EAM
Some organizations keep up with the status of their assets with paper records or by capturing data within spreadsheets. However, one of the drawbacks of using paper is the costs involved in storing that information. In addition, misfiling a critical document can lead to issues with keeping up with the location and use of essential company assets.
Relying on spreadsheets can quickly become cumbersome, especially if different people keep separate copies on their desktops. When it's time to figure out what equipment might require preventive or predictive maintenance, trying to reconcile that information can lead to confusion and frustration. It also puts organizations at a disadvantage in meeting industry compliance standards.
Other drawbacks associated with manual EAM include:
Increased risk of inaccurately calculating the depreciation value of assets
A lack of a real-time view into the key performance indicators of the lifecycle of various company assets
Losing time on manual tasks like repairs
Inadvertently overlooking health and safety protocols
Not implementing the correct maintenance strategy
EAM Software
EAM often involves the use of computerized maintenance management systems (CMMS) software. However, enterprise asset management software is different in that it focuses on establishing a framework for asset lifecycle management, while CMMS focuses on centralizing data associated with asset management.
An EAM program provides enterprises with the tools required to help them automate essential tasks for the asset management process. Most companies use an EAM solution to increase their ability to track an asset's lifecycle and optimize its performance. That happens by collecting data associated with its use, any malfunctions, costs, and depreciation.
Let's go over some essential functions provided by an EAM solution.
Work order management — The best way to optimize asset performance is by making sure that equipment gets assigned to the right technician. Using your EAM as work order management software makes it easier for asset managers to track any maintenance requests, order repairs, and ensure that planned work gets completed.
Maintenance planning — To bring down expenses, organizations must effectively plan and schedule essential work for maintenance teams. This visibility allows for data-driven decision-making that lowers the total cost of ownership for your assets. EAM software also helps with project management around asset maintenance.
Supply chain and inventory management — Assets and the material required for maintenance can be tracked through EAM software. Many use IoT technology that allows the EAM platform to integrate with other supply chain management systems.
Analytics — EAM software provides organizations with the ability to create enhanced analytics that provides key operational insights. These optimization models can help companies build automated workflows for planning, scheduling, and running work management processes associated with asset tracking.
Why is EAM Important?
EAM is important because it enables companies to track, manage, optimize, and assess the quality of their assets and their reliability. Organizations of all sizes can benefit from implementing an EAM platform. Once you understand what EAM is and how it can impact your company, it becomes easier to see the benefits. EAM solutions can help companies address issues associated with:
Trying to track down enterprise assets and equipment
Figuring out how to streamline processes around managing company assets
Controlling costs and increasing ROA on owned company assets
Improving communications around asset tracking and maintenance management processes
Establishing better security controls around who has access to organizational assets
Coming up with a standardized asset strategy to create consistency throughout the enterprise
Make sure that your business falls in line with all industry regulatory reporting requirements
With the right EAM solution, your company can:
Establish better health and safety practices — EAM tools offer organizations a way to establish a centralized database that contains all necessary health and safety information.
Follow industry best practices — Use your EAM software to create workflows and establish checklists that help workers consistently follow the proper asset management process.
Uncover potential problems — EAM systems contain preventative maintenance tools that help workers monitor and address issues with an asset before they affect the organization.
Create benchmarks — An EAM platform gives companies the ability to establish company-wide criteria for asset management.
Extend Asset Usage — Through better tracking, EAM software allows companies to get the most use out of their assets before taking them offline.
Improve sustainability —When you use the right EAM software, you are able to develop a more sustainable footprint achieving higher performance levels while being more cost-effective.
Why EAM is Important for Facilities and Facilities Managers
An EAM system helps facilities managers keep up with the assets housed within a facility. For example, they can immediately see if they have a certain number of Windows workstations available for new employees and when they were last updated. Having access to information like this helps facilities managers ensure they have viable assets on hand, have them scheduled for regular maintenance, and immediately find out where they are located and if they are in use. This enables facilities managers to become proactive instead of reactive, thus improving their performance and productivity.
For that reason, organizations should go with an EAM system solution for asset management over other platforms like a computerized maintenance management system (CMMS). EAM software gives facilities managers the kind of 360-degree view needed to keep up with the status of valuable business assets within one or more facilities.
How to Maximize Operations With EAM Software
After you figure out what EAM is, you can leverage some of the following tips to optimize your enterprise operations using your EAM solution.
1. Identify all assets within your organization
Gather as much information as possible about all assets owned by your company. Go through every manual log, spreadsheet, or other documentation record kept around assets. The work you put in at the beginning will go a long way toward making your EAM software more effective and efficient.
2. Tap into your current enterprise application
Integrate your existing solutions into your new EAM system. That way, you have a constant flow of information moving through your software. In addition, you can cut down on information silos and improve the accuracy of the data held within your EAM platform.
3. Keep up with warranty agreements
Make sure that you have warranty information tracked within your EAM system. By doing that, you always have a way to refer to essential elements like when the policy expires. That way, you don't end up paying for something that falls under the warranty terms or allow it to terminate before you can use the warranty's full benefits.
EAM System FAQs
What does EAM do?
EAM is the management and maintenance of a company's physical assets from the beginning to the end of their lifecycle using asset data. This includes capital budgeting and planning, leading to the asset's acquisition, installation, performance, maintenance, environmental and safety compliance, risk management, and disposal.
What is the full meaning of EAM?
EAM is the acronym for enterprise asset management and it is the practice of managing the entire lifecycle of physical assets to maximize asset utilization, reduce costs, improve quality and efficiency, and ensure the safety of personnel and the environment.
What is the difference between enterprise asset management and asset management?
EAM focuses on the entire lifecycle of an asset, from budgeting to acquisition, its performance and maintenance, to its disposal. Asset management focuses on maximizing an asset's performance and reliability through preventive and routine maintenance.
What is the difference between CMMS and EAM?
CMMS is primarily used for asset management systems focusing on the maintenance of equipment and machinery, while EAM software takes a holistic view of the complete asset management lifecycle.
Who uses EAM?
Industries that rely on costly and intricate physical assets, such as heavy equipment, factories, and vehicles, often use Enterprise Asset Management (EAM). The mining, shipbuilding, energy, utilities, government, aerospace, and defense sectors are the primary users of EAM.