Customer

Spotlight
Cole Haan Begins Every Day and Ends Every Night with ServiceChannel
Eric Korth is an industry veteran. He recently took his expertise to Cole Haan, the global lifestyle brand with a focus on men's and women's footwear and accessories. Cole Haan has been around since 1928, but Eric has been with the company for just a few months. As a Retail Facilities Manager, Eric is responsible for the physical structure and workings of all Cole Haan stores throughout the United States and Canada.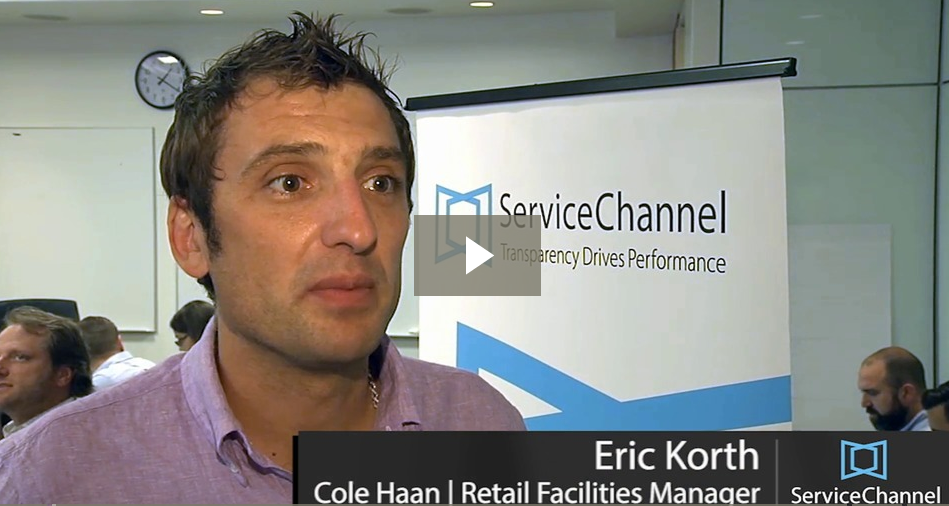 Sure, success can be measured financially, but numbers don't tell the whole story. To have success, Eric says, "You need to partner with the store employees and educate them to make smart fiscal decisions." This could be fairly straightforward except for one issue: turnover. Eric is constantly refreshing the message to the partners who might need a little more education and coaching. "Not everyone is driven by money, you won't move the meter without getting buy-in," say Eric. "You need constant coaching and refreshing and making it important to them."
One other issue that vexes Eric is managing expectations. "It may be as simple as my partners not knowing how to properly allocate their issue so it goes to the right vendor. They'll pick out the wrong choices during the Work Order process."
Eric uses ServiceChannel technology in multiple areas. One is the Work Order platform. "I use it to track vendor performance. For example, the analytics provide overall cost over a six-month period, so we can see how we are saving money," says Eric. Eric also uses ServiceChannel technology as a communication tool. Instead of writing multiple emails, he can include one note with a work order that everyone can access. He adds, "ServiceChannel is my number one platform for organizing my day. I start and end my day with it." Watch Eric explain what transparency means to him and his every day business operations.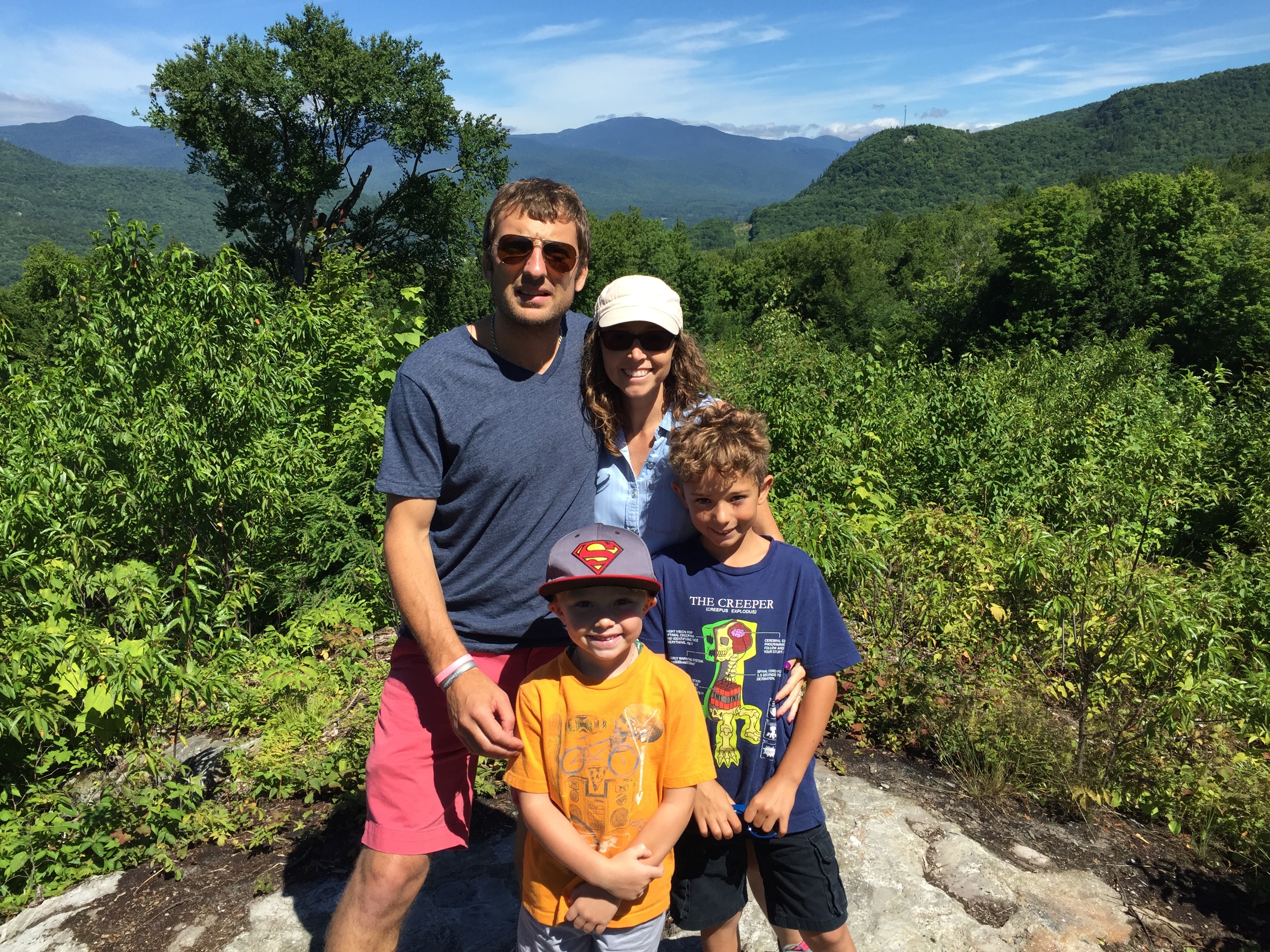 Communication is big issue for Eric. In working with contractors, honesty is a priority. "Positive or negative, contractors have to know where you're coming from." Also a must is one central point of contact. "If they're not willing to do that, I will go elsewhere. It seems to work out 95% of the time."
Being able to individualize the technology is a real bonus to Eric. For example, he recently worked with Susan Thomas at ServiceChannel to modify a troubleshooting alert so that the issue could be handled simply in-store before submitting a WO request. And speaking of training, Eric is all for it. He uses ServiceChannel online training for the introductory classes.
In his off time, Eric is a true family man. He's been married 10 years, and has 9-year-old and 5-year-old sons, and coaches all of his boys' sports. The Korth family lives in eastern New Hampshire, right on the beach. They love to fish, surf, and enjoy anything ocean-related. Come fall they are active outdoorspeople. They spend their time hunting and enjoying the foliage in and around the White Mountains. During the winter months you can find him hitting the slopes and chasing his boys around the frozen ponds with a hockey stick and a smile. Life doesn't get much better.
---
Employee

Spotlight
Dave Perry's 19 years in Facilities Maintenance
Dave Perry's roots in facilities maintenance go back not just a few years, but almost two decades. "Having been part of this unique facilities maintenance industry for about the last 19 years has afforded me the opportunity to have met and tracked with many of the amazing leaders in our space," observes Dave. And when it comes to ServiceChannel? Dave couldn't be more enthusiastic. "From a business development perspective it's terrific to be aligned with a company with such a positive reputation and to have earned the trust of so many of the biggest, brightest and most respected brands out there."
Dave has been with ServiceChannel for just over three years. As Director of Sales, Dave sums up his role in three words: "Sell, sell, sell." For some people the mission of selling every day all across the country could be daunting, but not for Dave. He says, "I really appreciate the great folks in this industry who work hard every day to enhance the level of support provided to their organizations., mostly by playing a behind-the-scenes role with little fanfare. I enjoy the fact that we can in our own small way help to make life and work a little better for those we serve."
Dave grew up on a large cattle ranch and farm in north-central Florida. To anyone who meets him, it soon becomes clear that he's a true country boy at heart. He and his wife have three grown daughters, one is now married, one is a recent college grad, and one is a rising college senior. Aside from his family, what else does Dave love? "I'm pretty much a college football junkie: Go Gators!"
---
Featured

Product
On-Demand Data Integration with Customer Systems Enhances Transparency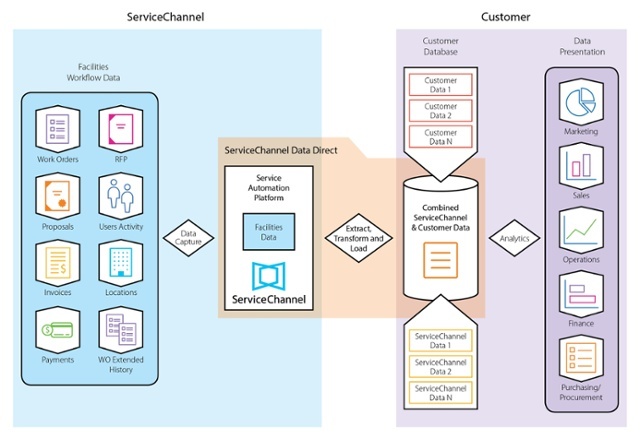 ServiceChannel Data Direct, a new data warehousing solution that gives users on-demand access to facilities management data that can be easily and seamlessly integrated with other customer-specific data to enable more comprehensive and transparent business intelligence across the enterprise. Read more.
---
Tip of

the Month
Did You Know the Nonemergency Work Orders Default Schedule can exclude/skip nights and/or weekends?
Set-up can be based on trade, store, and priority.
The SkipNights choice means that scheduled date/time will be moved to the next day starting from 8 AM if the scheduled date is later than 7 PM.
The SkipWeekends choice means that scheduled date/time will be moved to the following Monday starting at 12 AM if scheduled date is later than Friday 7 PM.
In ServiceChannel Admin, clients can:
Specify priorities (as granular to location and/or trade) during work order creation via Dashboard.
Set business rules that skip after-hours (5 PM to 8 AM) and/or weekends (Saturday and Sunday) when calculating estimated schedule date/time.
---
For You,

About You
The ServiceChannel Edge

According to the latest Edge from Nucleus Research, Nucleus expects ServiceChannel customers to experience greater ROI and benefit from cost savings, risk mitigation, compliance, and analytic capabilities. ServiceChannel automates commercial contracting, bringing more visibility into facility maintenance and service for commercial facilities. Read more.
---
Calendar:

Upcoming Events
September 27 – Think Transparency! Fall User Group, Schaumburg, IL
September 28 – Subscriber Advisory Board Meeting, Schaumburg, IL
September 28-30 – PRSM Mid-Year Conference, Schaumburg, IL
Check out our Events Page for more local events near you!
In Case You Missed It..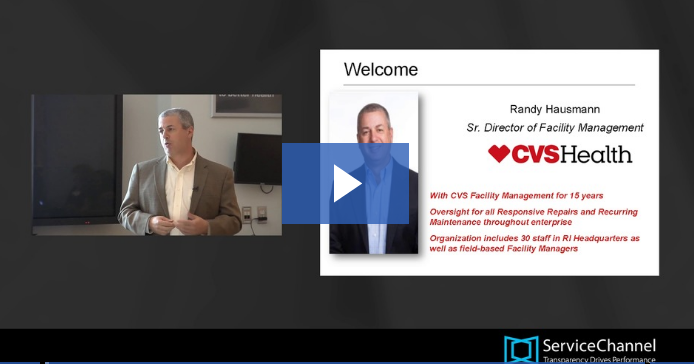 One of the latest stops on ServiceChannel's Think Transparency national tour was CVS Health Headquarters in Rhode Island. The highlight was learning directly from CVS Health's facilities management team, and how transparency is crucial to their operational strategy. To them, visibility across their program underlies everything they do. Watch video highlights.
---
Learning

Channel
LearningChannel is composed of interactive courses led by expert instructors on ServiceChannel products. These courses are perfect for when you need a refresher, when you have a new employee onboarding, or when you want to learn best practices to get the most out of our products. Each course lists the skill level necessary (from beginner to advanced) and the target audience, so you can mix and match courses based on your needs.
Available Courses
September 8 – Service Automation Reports and QuickView
September 8 – Invoicing and Invoice Reports
September 13 – The Power of Analytics
RFPs, Proposals, and QuickView
September 14 – Fixxbook for Contractors: Best Practices in Profile & Account Mgmt
September 15 – PMs Module: An Overview