Technology is driving change across all aspects of our lives, both personal and professional.  From your streaming services, transportation options and new roommate Alexa, it's likely your home environment is different from what it was not that long ago.
And while at work (or at home – but still working!) you're integrating more and more technology into your day-to-day processes.  Some of these new approaches are already in place, others are in process (or will be soon) while others are peaking out from just over the horizon.  These are some of the trickiest ones to plan for.
The facilities management field is certainly not exempt from any of this.  And given the sector's multidisciplinary nature and various internal and external touchpoints, there are a lot of technologies coming at you from all directions.  To help provide you some context with all this, we covered a number of these innovations in our 2018 Facilities Management Survival Guide.
This free ebook is providing participants across the facilities ecosystem with a wealth of actionable data and best practices.  In fact, our prior post detailed a number of FM industry statistics and metrics that we recommend you look into now, and possibly implement within your organization.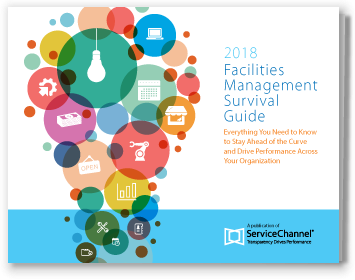 As our CEO, Tom Buiocchi, highlighted in the FM Survival Guide:
"We certainly expect the changes to the facilities management and maintenance world to continue and even accelerate – and why not – as the underlying retail, quick-serve restaurant, healthcare, financial and other "multi-location" industries accelerate their recent evolution and transform.
Technology and demographics are playing huge roles in these shifts, as digital strategies are being deployed throughout your favorite stores, shops, restaurants and locations to meet the rising expectations of "customer experience," while lowering costs, and improving in-store brand presentation."
To help better understand these shifts, we reached out to a number of our ServiceChannel subject matter experts to share what they thought was the
Innovation/technology/trend is likely to have the single biggest impact on the FM sector in 2018?
Our well-experienced team shared what they've been seeing, what they've been working on and what they anticipate being the innovations and trends that will be impacting you before you know it.
Innovations, Technology & Trends Impacting the FM Sector
Internet of Things (IoT) and Augmented Reality
More and more companies specialize in technology like HVAC monitoring devices, fuel monitors, fitness equipment usage devices, grease trap monitors, etc. All can communicate with our software without any human interaction. Augmented reality with things like BIM (building information modeling) also will begin to transform facilities. Imagine the benefits to troubleshooting with an instruction manual displayed while working on an HVAC unit.
– Brett Harrington, Sales Engineer
New Business Processes
Carpe Diem! Implementing a new software solution is a great time to think about what you've "always wanted to do, but just never have." Instead of trying to fit a limited existing process into a robust software solution, companies will take advantage of asset tracking, warranty handling, invoice feeds, and more to enhance overall operations, leading to strategic advantages.  Companies are learning that the "should do's" are actually "must do's" to remain competitive.
– Erica Young, Implementation Project Manager
Focus on What Makes Sense for You
Ease of use, asset management, integrated systems, budget tools.  From the top down, these are the sexy things larger FM teams like to talk about. Smaller organizations will probably focus on budget tools and how to get more with less. Workflow and automation based on certain types of criteria could also be something that would move the needle with that group.
– Mike Rivisto, VP, Customer Success
Mobile FM
The continued adoption/improvement of mobile tools. Enhancing the ease of use at the site level specifically fits perfectly within the culture/comfort of younger users.
– Dave Perry, Director, Sales
AI & IOT
AI lets you automate, take the manual effort out, and allow you more time to be proactive, etc. by using the power of the data.  IoT, with asset tagging and management.  It's not just buildings, it's what is in the buildings.
– Tom Buiocchi, CEO
Automation
As traditional brick and mortar stores struggle, FM budgets will be reduced, including head count. FMs are going to have to do more with less so any place they can automate any process, but have checks and balances in place to stay within their budget, will be a win for them.
– Emily Kansa, Customer Success Manager
Mobile
Putting technology in the hands of all the end users and increasingly we will be able to push things to them (repair videos, maps, work order details, etc.)
– Doug Ingraham, VP Product Management
Asset-based IoT
Deeper investments in asset management and associated IoT. With shrinking budgets, this is the area that can contribute the most to savings: warranty claims, energy savings, etc.
– Hugues Meyrath, Chief Product Officer
FM On the Go
FMs and users on-site will be able to do anything they need to do on the go while travelling, at home, etc. to improve their performance and save time.
– Susan Thomas, Premium Support Consultant
Auto Dispatch via IoT
Location users and FMs are typically not 'asset' experts and are not in front of the 'asset' 24/7. With IoT, assets will be able dispatch work orders (24/7 or set parameters) during the beginning stages of 'break/fix' and schedule preventive maintenance at an optimized schedule, resulting in maintenance cost reductions and asset life increases.
– Igall Buzilo, Director Strategic Solutions
Rapidly Changing Tech with Rapidly Changing FM Roles/Responsibility
FMs will be more focused on leveraging advanced hardware and software technologies to identify technical solutions to better serve their locations.
– Leum Fahey, Project Manager
Smarter Budgeting
Putting mobile applications into the hands of everyone in the work order chain will free them from their desktops and POS terminals. That produces hands-on details and accurate information which result in effective resolution.
– Paul Lehman, Solutions Manager
Advanced Location Visualization
More interactive store maps that can display anything from assets to open work orders can give an FM a better understanding of what's going on at a location, and allow visualizing new assets/fixtures/furniture before arrival at a location.
– Dylan O'Neill, Product Associate
Analytics and Machine Learning
In today's competitive world, it is imperative to do more with less. FMs are going to be challenged to find ways to save money, improve efficiencies and provide better service.  They need to leverage intelligent automation and advanced analytics to achieve these goals.
– Sid Shetty, VP – Marketplace Strategy & Experience
Actionable Facilities Management Information
The Survival Guide's been designed to help you stay current on all that happening across the facilities management landscape.  There's a wealth of useful information like:
Facilities Management Best Practices

2018's Top FM and Related Industry Events

Industry Twitter Accounts to Follow

Industry LinkedIn Groups to Join

FM-related Blogs, Podcasts and Books
We invite you to check out the Facilities Management Survival Guide as you're likely to find a number of informative resources to power your own facilities management program.