ServiceChannel Supply Manager Helps Unite Facilities Management, Corporate Procurement and Strategic Suppliers
March 31, 2015
Enables Sourcing Efficiency and Transparency across the Distributed Enterprise
NEW YORK, March 31, 2015 – ServiceChannel, the leading service automation platform for facilities managers and contractors, today announced growing adoption of its recently introduced ServiceChannel Supply Manager among facilities management departments who are using the solution to automate and standardize enterprise-wide purchasing of equipment, parts and supplies. Supply Manager helps facilities managers maintain brand consistency across all sites, optimizes cost and inventory control, while adhering to corporate compliance and purchasing policies. 
The rapidly increasing adoption of ServiceChannel Supply Manager is aligned with the growing industry trend of shared responsibility that facilities management and corporate procurement departments own in a company's strategic sourcing initiatives, generally defined as an institutional procurement process that continuously improves and re-evaluates the purchasing activities of a company and a critical component of supply chain management.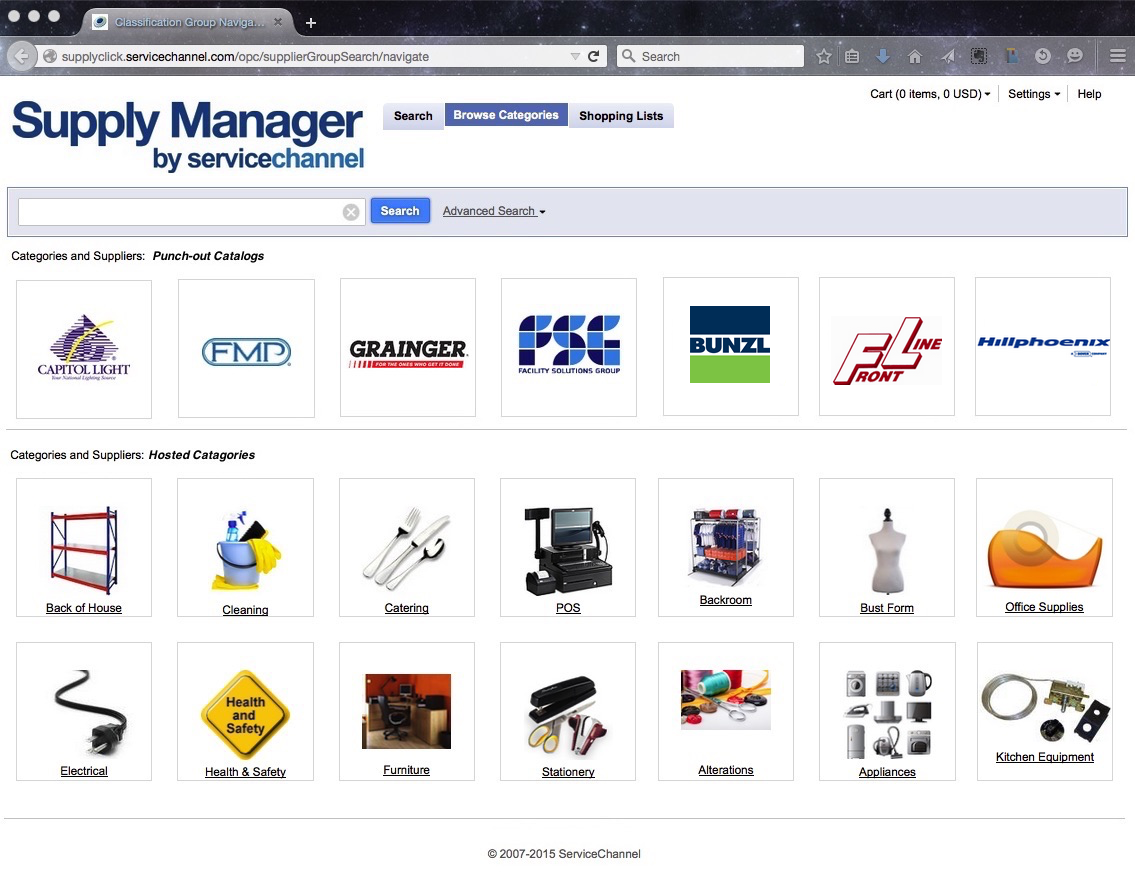 "Facilities management and corporate procurement departments have not always seen eye-to-eye when it comes to who needs to do what for corporate purchasing," said Paul Walsh, CEO and Founder of PathtoMax Consulting and a former Director of Strategic Sourcing at the Gap, Inc. "Facilities managers are often driven by time constraints in procuring equipment and materials for repairs and maintenance projects. Procurement managers are driven to achieve the best cost efficiencies and fulfilling other procurement goals, such as supplier diversity. Implementing service automation tools such as Supply Manager helps enable true strategic sourcing by ensuring corporate purchasing at all locations is a repeatable, data-driven and transparent process that meet the requirements of both departments."
Facilities managers are using Supply Manager as an extensive, customized online catalog to consolidate their many and diverse parts, equipment and materials suppliers who support their local branch and site locations. Supply Manager integrates seamlessly with the ServiceChannel Service Automation platform to correlate repair and maintenance work orders to strategic sourcing requirements such as spend control, quality assurance and tracking warranties. Supply Manager achieves this through a variety of self-service features such as a personalized online shopping experience, guided/policy-driven purchases, role-based access controls, automated workflow management and paperless purchasing and invoicing.
Supply Manager also benefits suppliers through service automation and improved communications between them and the companies they support. Approved suppliers are able to integrate their catalogs and online platforms directly with Supply Manager, providing benefits such as automatic shipping notification, improving purchase order reliability, and overall reduction of administrative time and complexity.
"Service automation tools such as Supply Manager tend to improve our relationship with customers who have deployed them through enhanced communications and transparency," said Arnold Kimmons, VP Sales and Marketing at Franklin Machine Products, North America's leading broad line supplier of kitchen parts and accessories. "The ability to integrate into a highly automated and reliable purchase ordering and invoicing system improves efficiency and cost savings for customers who use the platform."
Pricing and Availability
ServiceChannel Supply Manager is available now as an optional module in the ServiceChannel Service Automation suite via a software license. ServiceChannel is planning to introduce several new features and capabilities for Supply Manager in the second half of 2015. For more information, including a live demo of these products, visit www.web.servicechannel.com.
Additional Resources
About ServiceChannel
ServiceChannel provides facilities managers with a single platform to source, procure, manage and pay for repair and maintenance services from commercial contractors across their enterprise. By providing a real time, web-based view of service data across all trades, locations and contractors, facilities managers drive significant brand equity and ROI for their organizations without outsourcing or investing in new infrastructure. Over 200 leading global brands use ServiceChannel daily to conduct business with over 50,000 contractors at more than 100,000 locations in 63 countries.
ServiceChannel was named a GAP Inc. Strategic Partner in 2013 and awarded two Nike Vendor Excellence Awards in 2010 and 2012. ServiceChannel was also named the Vendor of the Year in 2011 by The Professional Retail Store Maintenance Association (PRSM).
Media Contact for ServiceChannel

Name: John Noh
Phone: 408-242-3852
Email: jnoh@web.servicechannel.com