Integrating Move Management with Facilities Management Leads to a More Productive, Happier Workplace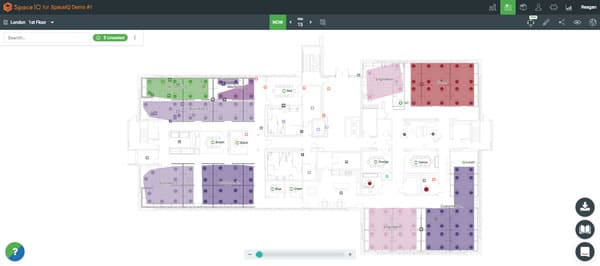 ServiceChannel works with a range of partners in adjacent solution categories, bringing best-of-breed capabilities to the facilities management ecosystem. This is the next in a series of guest posts from our partners highlighting how these new technologies are driving innovation and real value across the enterprise.
How do you create a happier workplace, reduce overhead, and maximize productivity? Facilities management (FM) may not be the first place that comes to mind, but your workplace is where employees spend a large portion of their time. The workplace is basically a second home to most employees. Therefore, accommodating your highly-valued employees can be a challenge because they're looking for a work culture that is both serious and a place to recharge their batteries.
Whether in a small company, a mid-sized business or an enormous corporate organization, employees are more than just a bottom line. When their needs are acknowledged and satisfied in a rewarding environment, many will naturally become more dedicated, loyal, and harder working.
Enhancing Facilities Management with IWMS
Modern facility management software gives you the full range of tools you need to maintain a dynamic atmosphere for your employees in the workplace. Rather than sinking resources into unsupported and complex arrangements, companies can look to Integrated Workplace Management System (IWMS) software.
This type of software helps reduce company expenditure while increasing productivity. IWMS software helps form the foundation of efficiency, flexibility, and transparency from which you can build a happy and productive workplace.
Ensuring a Happy – and Productive – Workforce
As the old adage goes, a happy workforce is a productive workforce. This is backed by studies which have shown a correlation between a comfortable workplace experience and employee satisfaction. Put simply, happy employees are more loyal and dedicated and more productive. As their comfort is cared for, they are able to focus and improve their pace of work.
Employee comfort is a function of the environment. This consists of basic facilities management, maintaining a pleasant temperature and air circulation, and more complex arrangements of furnishings to give employees both a sense of freedom and a feeling of belonging.
IWMS software makes dynamic arrangements easy to implement and helps maximize the use of assets and resources through an integrated software platform. Moves—even self-moves—should be inexpensive and quick to put into place. A workplace that is responsive to the needs of the workforce makes it easy to collaborate with work.
To ensure employees are not disturbed, ad hoc collaboration spaces provide small, casual areas in which small groups of employees can gather as-needed to solve problems. Good IWMS software solutions make it easy to relocate employees, book collaboration spaces, and find resources such as people, printers, and available rooms.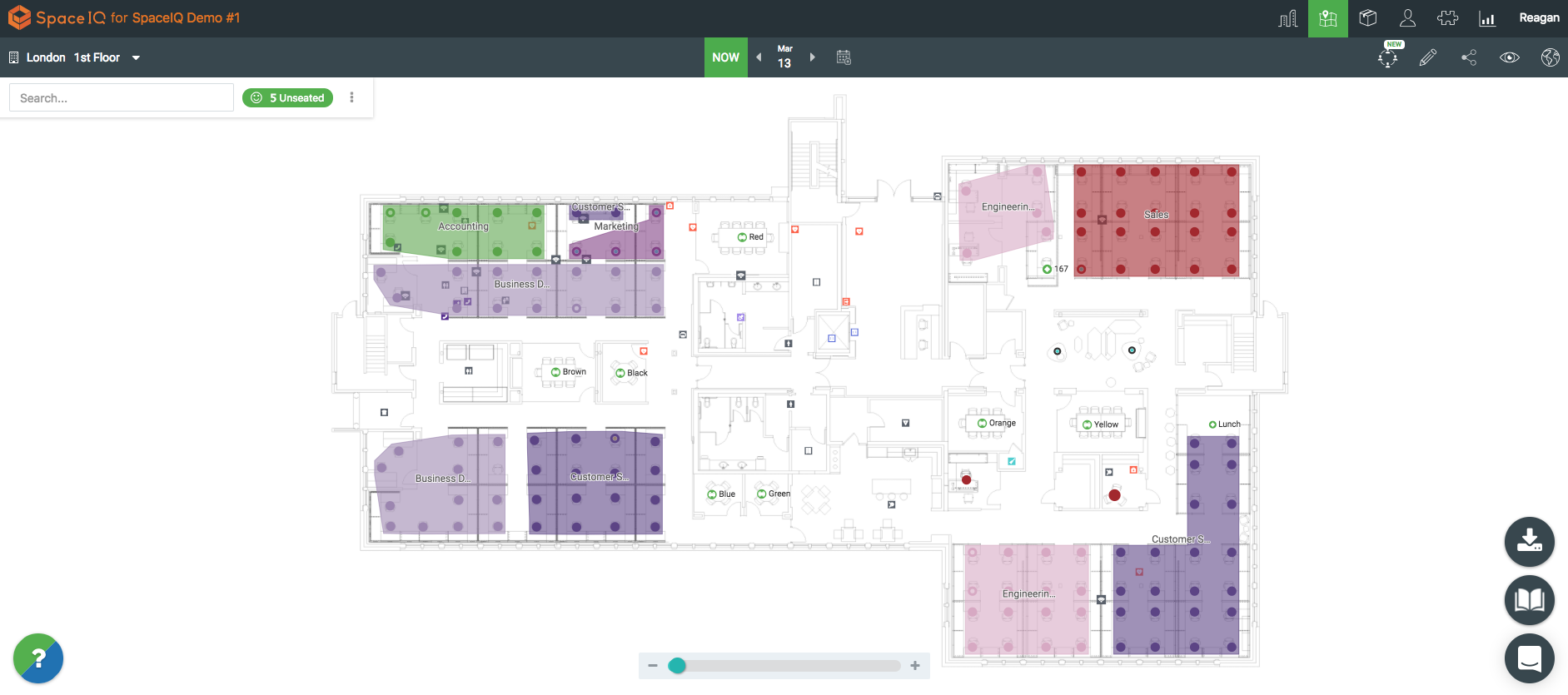 This view allows users to plan, execute, and measure different stack plans, move scenarios, and light asset tracking. It can also be used for intuitive way-finding, perfect for vendors to be given limited access to locate tickets, HVAC systems, and other assets in need of repair.
Managing Your Space Effectively is a Key FM Requirement
Using space effectively in the workplace is critical in today's modern business world. Facilities Management software and IWMS software solutions allow you to make more efficient and effective use of office space. With real-time information and computer-aided designs, you can get a virtual layout of your space to work out where your employees can sit comfortably and what space within each department can be allocated to different functions, such as meeting rooms and "relaxation zones."
Additionally, the software allows for much more accurate and incredibly fast reporting. By using only one look-up system, data is available throughout the company to whichever employees have access to it and, being in real-time, it is always up-to-date and as accurate as the information inputted.
Integrated FM software opens the door for simple and highly-effective, real-time communication through the platform, so that decisions can be made regarding space use, management, and maintenance requests. The integrated nature of the software means information about your workforce is always available—all you need to do through FM software is act upon it!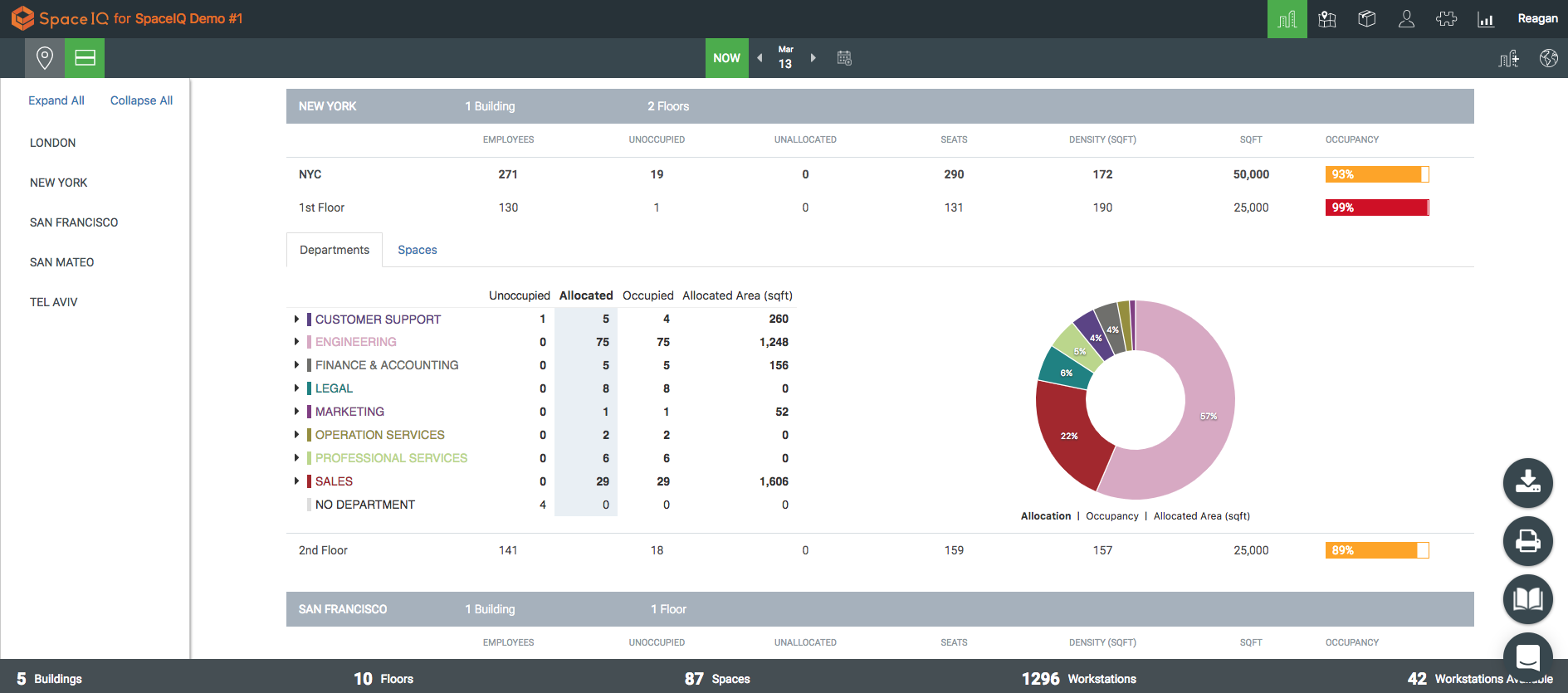 An at-a-glance view of all of the real estate under management. It can demonstrate how much square footage is allocated to individual departments, teams, and even neighborhoods. Through a ServiceChannel integration, you can even begin to track how many open work orders exist within each of the many real estate locations.
Driving Efficiencies by Linking IWMS with Facilities Management Software
By complementing IWMS software with a robust FM platform, you'll effectively streamline communication within the company regarding move management, asset management, strategic planning, space management, maintenance management, preventive maintenance, and facility management services solutions. All told, this will save the company a ton of time and money, and make your working day far easier and more efficient!
If you could find an employee who does all that for you and saved on costs, it would be a no-brainer to hire him / her today. So, why not employ the services of IWMS software that can interface with your FM platform to do the same?
With happy employees, you can look at facility management from a new point of view. Legacy FM software simply does not keep up with the modern world of work. The innovations that new FM technology offers deliver an easier way to save on overhead and give your workforce more control and freedom.
Combining your IWMS with your FM software is a powerful combination. For example, consider facilities requests made through SpaceIQ's IWMS. These requests are easily submitted through the platform and instantly logged within the SpaceIQ system. And, when used in collaboration with ServiceChannel's Service Automation platform, these requests automatically flow from SpaceIQ's system to ServiceChannel's, so they can be instantly dispatched to the appropriate internal tech or third party contractor to complete.
This way, service requests can be processed, delegated, and acted upon in real-time, as part of a workplace ecosystem that's always running. No more queue submissions or ticketing errors. Instead, ease-of-use empowers anyone to act and the cohesiveness of technology ensures requests are processed properly and thoroughly to a result. Requests can be handled automatically and processed faster, reducing costs and boost the quality of service delivered.
An Always-On Workplace Management Approach
An integrated system combining SpaceIQ's and ServiceChannel's goes beyond just facilities requests. This integrated system supports myriad uses that keep workplaces moving at the pace of the people working within them. From assessing the opportunities for space utilization and cost efficiencies, to planning and managing departmental migrations, the collaborative nature of IWMS and FM software like SpaceIQ's and ServiceChannel's open the door for quicker, smarter, better action.
When you distribute access to tools, such as letting managers rearrange their workgroup, you facilitate the dynamism of the modern workplace. Keeping your employees productive and happy becomes easier. You empower employees in their work. Critical systems and processes are handled by the person in the organization whose job encompasses these responsibilities.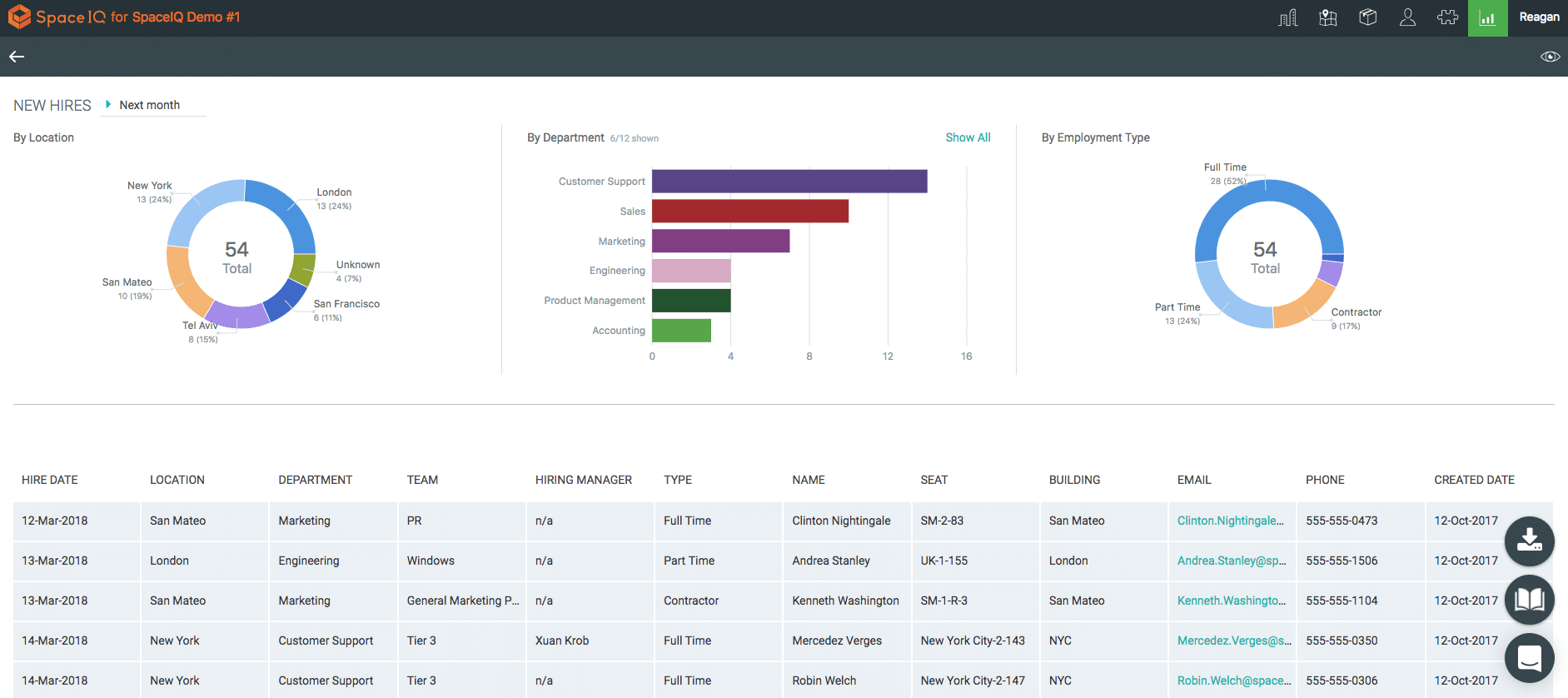 This suite of reports allows users to demonstrate the value of their real estate and begin to make smarter utilization decisions, and measure the effectiveness of their facility management efforts.
Dynamic Respond to Environmental Conditions
While monitoring and managing vital systems, an IWMS can also track conditions in the workplace. Systems such as dynamic lighting and HVAC can shave an organization's expenses. Dimming an empty workplace is economical and just makes sense. Dynamic systems can be triggered by the arrival of employees and automatically turn down at the end of the workday.
IWMS software makes linking systems and extending your reach, easier and more efficient. Using an IWMS means you have the tools for managing the dynamic workplace that will leave your employees feeling content, comfortable, and happy. Above all, they will maximize productivity and save on company spending.
To learn more about working with SpaceIQ and ServiceChannelLink, check out this exclusive event on the Evolution of Facility Management in Chicago on Tuesday, March 20.
Jeff Revoy is Co-founder and CCO at SpaceIQ. SpaceIQ is a technology company founded by seasoned business and technology leaders to transform every workplace from a cost center into a competitive advantage. The SpaceIQ workplace management platform is a smart IWMS/CAFM solution with a suite of powerful and easy-to-use workplace optimization features such as space planning, move management, real estate forecasting and more, helping companies of any size to increase engagement, fuel productivity and reduce costs through operational efficiency and centralized visibility. SpaceIQ is headquartered in Mountain View, California with offices in Sandy, Utah. For more information https://www.spaceiq.com/